Doctors, medical students speak out on abortion bill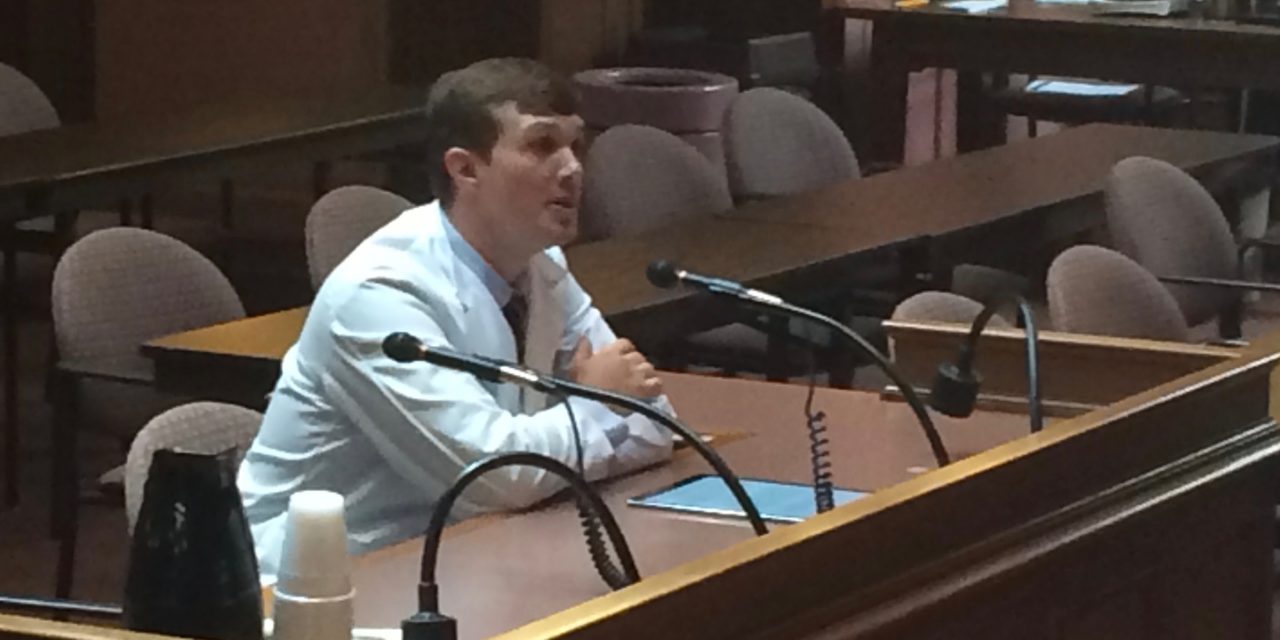 Image: Joseph Lalli, a medical student at UW, testifies against the proposal.
Doctors and medical students testified against a proposal that they say would cause University of Wisconsin's OB-GYN residency program to lose its accreditation as the bill's supporters fought back against the claim at a public hearing Tuesday.
The proposal would prohibit UW System and UW Health staff from providing training in abortions unless the training occurred in a hospital.
The UW School of Medicine and Public Health has an agreement with Planned Parenthood, in which the family planning provider covers the cost of training for faculty and residents. Under the Accreditation Council for Graduate Medical Education, OB-GYN resident programs have to offer training or access to training in the provision of abortions. Residents with a religious or moral objection can opt out.
Bill author Rep. Andre Jacque, R-De Pere, said UW couldn't name a school that has lost its accreditation because of not offering the services.
Jacque cited studies that he said showed colleges weren't offering abortion training, including a 2014 article based on a survey of residents. Fourteen percent said that training in elective abortion wasn't available. He also pointed to a 2005 article that found 19 programs claimed to offer no training on elective abortion.
"It is very clear that that's not going to be the basis for the withdrawal of accreditation," he told lawmakers on the Assembly Committee on Science and Technology.
But Dr. Robert Golden, dean of the medical school, said they're not aware of any residency programs that haven't complied with the accreditation standards. He disputed the surveys Jacque referenced, calling them "at best confusing and very, very misleading."
Golden noted that the response rate on the resident survey was low. And he criticized the 2005 article for asking program directors about training on elective abortions, and not therapeutic abortions.
"I think that most OB-GYN residency programs, because of the clarity in the documents put out by ACGME, understand that if they don't comply with this, they will not be accredited," said Dr. Laurel Rice, chair of the OB-GYN department at UW. "So I'm not surprised, actually, that there have been no programs in the recent past that have lost accreditation. It could not be clearer in the documentation."
Dr. James Linn, a Medical College of Wisconsin OB-GYN professor testified in support of Jacque's bill. By the time residents leave a residency program, they're qualified to provide abortions even if they don't perform any during their training because they have to learn to do the "same procedures" to care for women who are having a miscarriage, he argued.
Dr. Cynthia Jones-Nosacek, a family medicine doctor representing the Milwaukee Guild of the Catholic Medical Association, said she would support the bill regardless of whether UW lost accreditation for its residency program, even though she doesn't think that would happen.
"I would have to say, in my opinion, I would rather that the residency program loses its accreditation than perform that procedure," Jones-Nosacek said. "I think if enough residency programs are willing to stand up and say we will not do this, then they'd have to back down."
But students argued that the program losing its accreditation could hurt their education. Jillian Gorski, a UW medical student, said she was taught by many of the 25 OB-GYN residents that the bill could impact.
"This impacts every single student at the medical school," she said.
Joseph Lalli, a medical student at UW, said he was concerned that the bill would hurt his ability to take care of patients in the future because he didn't see how he could learn procedures if the bill takes effect.
He said that many common medical complications in pregnancy can only be treated by ending a pregnancy, either by delivering a fetus or, if necessary, an abortion. That includes HELLP syndrome and preeclampsia, a dangerous medical diagnosis characterized by high blood pressure that can lead to organ failure.
"At some point in the next decade, I am going to be the one who sees you or your wife when you come in for your checkup. I'm going to be the one who puts that blood pressure cuff on you. I'm going to be the one who tells you your blood pressure is 210 over 150 and that your organs are shutting down," he said. "I will be the one who's frantically calling the attending physician trying to find someone, anyone who knows how to do the procedure to help you. And if the attending can't come fast enough, I might even be the one who has to perform the abortion or induce labor to save your life. Don't you want me to know what I'm doing?"