Senate GOP leader: New revenue projections make healthcare investments easier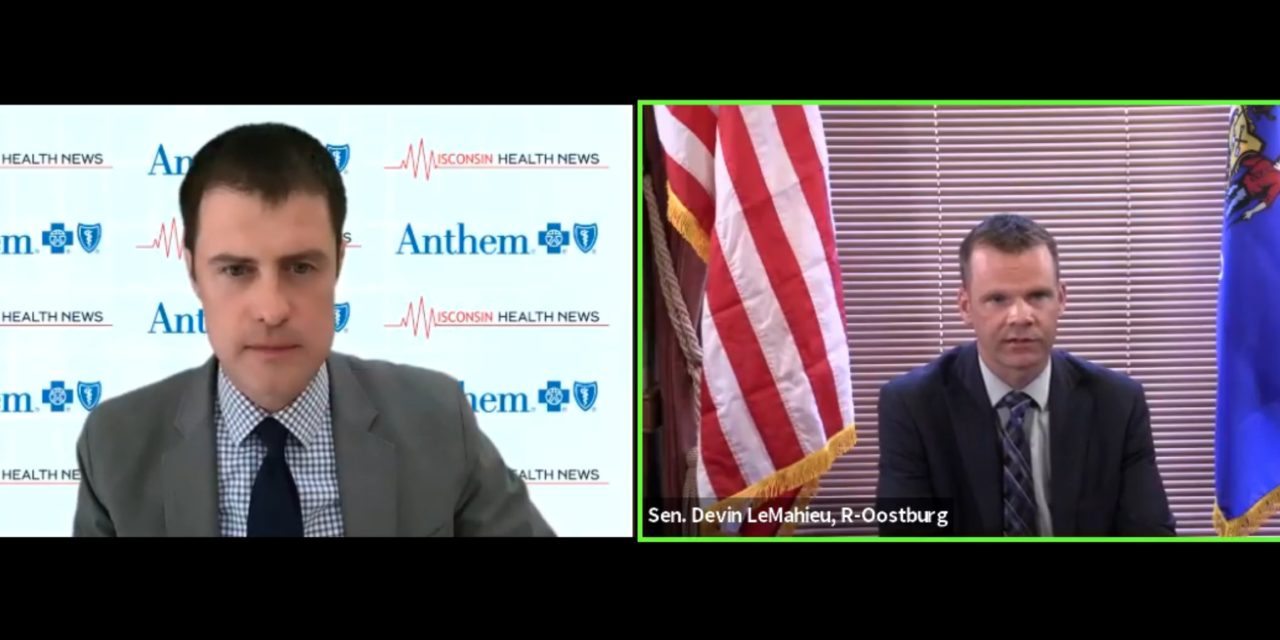 Better than expected projected revenues will make it easier to invest in healthcare through the state's 2021-23 budget, the leader of Senate Republicans said during a Tuesday Wisconsin Health News panel.
New projections from the Legislative Fiscal Bureau show that Wisconsin will take in around $4.4 billion more than previously anticipated in tax revenue over three years.
"It definitely makes it easier for us to make sure that we're investing in healthcare, to make sure that we continue Wisconsin's excellent quality that's provided in healthcare," said Senate Majority Leader Devin LeMahieu, R-Oostburg. "Just to make sure that we make those investments in different areas to continue on our last couple of budgets to invest in long-term care facilities, hospitals and things like that."
LeMahieu said their healthcare priorities include funding the state's reinsurance program, which lowers premiums in the state's individual market. They'll also be looking at Medicaid disproportionate share hospital payments, which go to hospitals that serve a large number of Medicaid patients.
They hope to invest in long-term care facilities and are looking at how to provide around $650 million in state money to meet the Medicaid cost-to-continue estimate.
LeMahieu also said the projections would lead to a budget that provides "crucial tax relief," saying in a statement that the revenue windfall provides a "once-in-a-generation opportunity to fundamentally reform our tax code."
His spokesman said the Joint Finance Committee is planning to take up the Department of Health Services' budget next Tuesday. LeMahieu anticipates the committee to finish its work at the end of next week, with the Legislature passing the budget by the end of June.
Gov. Tony Evers lifted requirements for state agency lapses on Tuesday in response to the projections. The state's largest agencies were asked last year to return more than $300 million to the state's general fund due to the COVID-19 pandemic.
Department of Administration Secretary Joel Brennan said the updated revenue projections mean the state's next budget should include investments in education, economic development, healthcare and infrastructure.
"The governor is no stranger to cutting taxes, it's something that there is a place for, absolutely," Brennan said at a Milwaukee Press Club event Tuesday. "But there's also a place for making sure that we make the kind of investments that are necessary."
Brennan criticized Republican lawmakers for ending a special session to expand BadgerCare, which would extend Medicaid to 90,000 Wisconsinites, half of whom lack health insurance. It would save the state more than $600 million in the next two years, and provide another $1 billion through the American Rescue Plan Act.
"Seventy percent of the people in the state of Wisconsin are for this, but the Legislature – a few leaders in the Legislature – are not," he said. "So it doesn't even see the light of day, doesn't even have an opportunity for people to go on record around this."
LeMahieu said it doesn't "make any sense" to expand Medicaid, given the state doesn't have a coverage gap and that changes made by the American Rescue Plan Act are temporarily boosting subsidies for plans offered through the exchange.
"I think we have enough money right now in this state to pass a responsible budget – we saw that this morning," he said. "Just to expand, you know, government assistance, put more people dependent on the government, isn't necessarily the best idea when we're trying to get people back to work, trying to grow our economy, trying to make sure that we have high quality healthcare."
This article first appeared in the Wisconsin Health News daily email newsletter. Sign up for your free trial here.