On the Record with Amylynne Santiago Volker, founder and president of the Nicholas Volker One in a Billion Foundation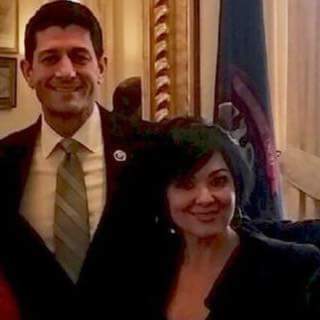 The U.S. House of Representatives approved a bill Wednesday that would provide more funding for medical research and speed up approvals for drugs and medical devices at the Food and Drug Administration. Amylynne Santiago Volker was one of the many lobbying for the measure.
Volker's son Nic was the first person to be saved through genome sequencing by researchers and doctors at the Medical College of Wisconsin and Children's Hospital of Wisconsin.
Providers struggled for years to identify the never-before-seen illness until they used the procedure in 2009, which was the focus of a Pulitzer-prize winning series from the Journal Sentinel and a book published earlier this year.
Now, Volker heads a foundation that aims to support other families with children who have rare diseases.
"I started the foundation to try and help as many people as we possibly can," she said in an interview.
Volker spoke with Wisconsin Health News about the 21st Century Cures Act, the foundation's goals and barriers that still exist for genomic sequencing.
WHN: How does the 21st Century Cures Act connect with Nic's case and why have you been involved?
ASV: I've been working on that for about two years now. Nic is really one of the biggest success stories for genomic sequencing that's known around the world, around the country and in the media. We want that for all people who have rare diseases who want the best quality of life or a cure.
WHN: Why did you establish the foundation?
ASV: I think it's been about six years since this story about Nic broke. Since then I've gotten requests from people to help them, families with kids who are undiagnosed or who are fighting for their lives, and I try to help them. As the years have gone on, I've been a volunteer patient advocate as well as working for other foundations. That's connected me to various doctors, legislators and all types of people. However, Nic is known around the world as being one in a billion. And he just doesn't fit into any one group. And that's what I've found. I've been trying to help all these different foundations and organizations. But I think really I can do the most help and Nic can do the most help – because really it's about him and he's really the reason why I started the foundation – there are so many people that we can help and we can't just put it in one group. He lost his colon when he was four, so he can identify with people who have Crohn's disease or colitis. He has a one-in-a-billion rare mutation. There's nobody in the world who has been found to have that same genetic mutation. He's very rare. He fits in the rare disease world. I'm now a rare disease legislative advocate, but when you think about rare disease there are actually many rare diseases. One in ten people have a rare disease. However, there are groups, 25,000, 50,000 that actually have a rare disease where Nic is still really on his own. And then you go with kids who have had chemotherapy and have had bone marrow transplants. Well there we go, Nic's in that group as well. He's gone through chemotherapy for a couple of years, and he's had a bone marrow transplant. And as a complication of the transplant, he got encephalitis, so he is somebody who has encephalopathy. So he actually deals with the side effects of that and then got seizures 18 months after. So now he's in the epilepsy world. And then, we've also been on this diagnostic odyssey, but he happens to be the first person in the world to be saved by DNA sequencing. As you can see, he's one in a billion. But yet he fits into all these different places and populations where we can help. I didn't want us to be defined with one population. People wanted us to just focus on one area, and we really can't.
WHN: What do you see as the foundation's mission?
ASV: The very first mission is to get DNA sequencing, which was the diagnostic tool that saved Nic's life, available to whomever needs it as soon as possible, to make it affordable to everybody. Right now insurance companies mostly aren't paying for it. We're six, seven years in and that's really surprising to me because the cost has gone down from what they thought was going to be about $100,000 when we had it done. And it was the first person. And we just had exome sequencing, which was a very small part, like 2.5 percent of the whole genome. Now, whole genome sequencing is available and you can get that done for around $6,000. At the time that Nic was dying and nobody knew what he had, they thought it was going to cost about $1 million. Now the cost has come down exponentially, and yet most insurance companies are still not paying for it. And we're not just talking about the United States. We're talking about around the world and kids with rare disease especially. All types of disease can be helped with this diagnostic tool.
WHN: What other barriers are there?
ASV: When I recently spoke at a Roche Pharma meeting, I was really surprised because they asked me a question: With people contacting me, is there still a problem with patients and families getting this covered by insurance? And of course, my answer was yes it's the No. 1 problem. So then I turned the question around and I asked them. I was really surprised that they said that the biggest problem was insurance companies not having the code. So there's no code for the pay. That was really a revelation to me.
WHN: One of the goals of the foundation is to push for fast-tracking targeted treatments based on genes and biomarkers. How should that be accomplished?
ASV: If you're familiar with the Food and Drug Administration, it takes a lot of money and an average of 14 years to get a treatment. So, I think, a goal of myself and many other families – mostly families with kids who have rare diseases that do not have cures – is to actually change FDA guidelines on clinical trials. But then when you talk about personalized medicine and precision medicine, a goal would be to get therapies approved faster but based on your genetic code. It seems like really genetics is where it's at in personalized medicine. You can't give a thousand people the same dose of the same medicine. For example, Nic doesn't have a colon. If you look in your textbook, say in Med School 101, and you prescribe him a medication, it's not going to work the same way because he's not going to metabolize the same as the general population.
WHN: Part of the money you raise through the foundation would go to programming like scholarships and recreational camps for children who have suffered trauma from surviving rare diseases. How do you plan to do that?
ASV: We've been in talks with the National Disability Center. I actually went out there and met with the director of that camp in May. We're working on programming and getting some criteria so that we can fundraise for kids to be sent out there. I've also met with some camps in California. And there's one in Georgia that's not actually finished yet I'm really interested in. It's for kids with complex mental needs who are developmentally disabled.
WHN: How is Nic doing?
ASV: This summer was the absolute best summer he's ever had. It was probably the first summer he was able to actually really be a kid. I had an 11-year-old international student over here from Thailand who stayed with us. Nic and her were thick as thieves. After three years of her being here, we spent a little over three weeks on the road, just Nic and me. And we stopped in Colorado, Arizona and California. He was seizure-free the entire trip. And he has just made incredible strides since he's come back. We're hoping to keep the momentum up. He was able to do things he has never done before. One of the goals of the foundation really is to get this programming for activities, especially outdoor activities like hiking, climbing and swimming in the ocean. Just being outside has done a world of good for them. He's in the fifth grade, and he's doing really well and everyday he tells me he's happy.