Medical society pushes back against 'right to try'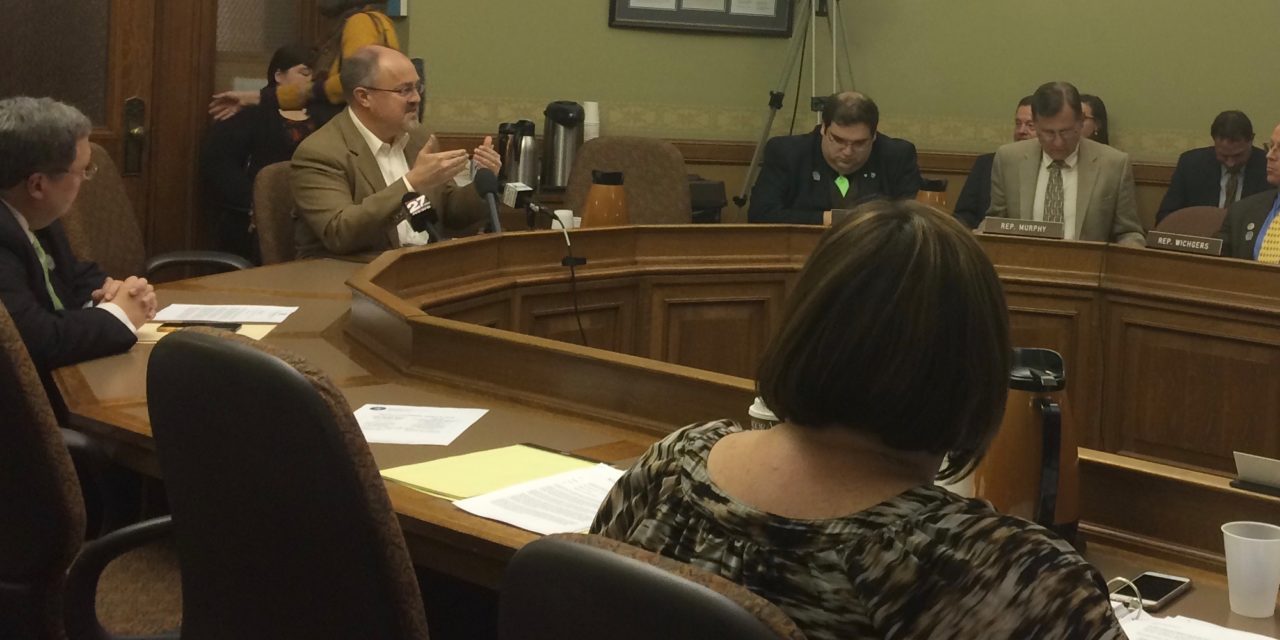 Mark Grapentine, Wisconsin Medical Society senior vice president of government affairs, testifies. 
Supporters behind a proposal providing an alternative path for terminally ill patients to receive experimental drugs said it would give families hope. But the Wisconsin Medical Society said Wednesday that the process could undermine future treatments.
The Assembly Committee on Health held a hearing on the proposal, which would make an experimental drug or device product available to a patient if it's completed a phase one clinical trial. The drug would have to be under investigation or pending approval by the Food and Drug Administration. The committee plans to vote on the proposal next Wednesday.
Patients would be eligible if they've considered all other available treatment options, received a doctor's recommendation and given informed consent. The proposal would limit liability for manufacturers, doctors or those who make the product available.
"These patients are already fighting for their lives," Rep. Patrick Snyder, R-Schofield, told lawmakers. "They shouldn't have to fight the federal government for options."
Thirty-three states, including Illinois, Michigan and Minnesota, have passed similar laws, according to the conservative Goldwater Institute, which has drafted model legislation and pushed for the law.
But Snyder and supporters weren't able to say how many of those laws have helped. They cited testimony from a Texas doctor who claims to have treated more than 70 patients through the program in his state.
The FDA has recently streamlined the program allowing terminally ill patients access to drugs in clinical trials, reducing the length of paperwork. Between October 2014 and September 2015, FDA allowed 1,416 cases to proceed and blocked 14.
Mark Grapentine, senior vice president of government relations for the Wisconsin Medical Society, testified against the proposal. He noted that phase one trials determine a drug's toxicity, not its efficacy.
The current system is scientifically sound and ensures that treatments are beneficial, he said. They're concerned that the bill could hurt future treatments as patient might opt out of clinical trials.
Instead, they may pursue a "lottery-ticket-type hope" that an experimental drug might lead to recovery or reduce their suffering, he said.
"If you self-select your way out of clinical trials…you are actually somewhat ironically slowing down the process to develop drugs that could be that miracle," he said. "Because you don't have as many people in that study, you're slowing down the ability to have that study done."
Grapentine said there are valid concerns about the speed of FDA approval, "but science sometimes has to take its time." He suggested the bill could be improved by requiring patients to also try to participate in clinical trials before receiving the experimental treatment.
There are also "unanswered questions" about cost, Grapentine wrote in testimony. While the bill includes protections for manufacturers, distributors and others who make the drug available, it doesn't identify the responsibility of insurance companies for additional costs.
Tim Wendler of Pewaukee testified in support of the bill. His wife Trickett died from amyotrophic lateral sclerosis, known as ALS or Lou Gehrig's disease.
"I'm not naïve enough or arrogant enough to stand here before you guys today and say, 'If this bill were in place five years or 10 years ago, that Trickett would be here, that we would have found a cure,'" he said. "What I will say without hesitation is that this bill would have provided hope for us."
U.S. Sen. Ron Johnson, R-Wis., has introduced a similar proposal at the federal level named after Trickett Wendler.