Boatwright calls for unity, discusses SSM Health's approach to COVID-19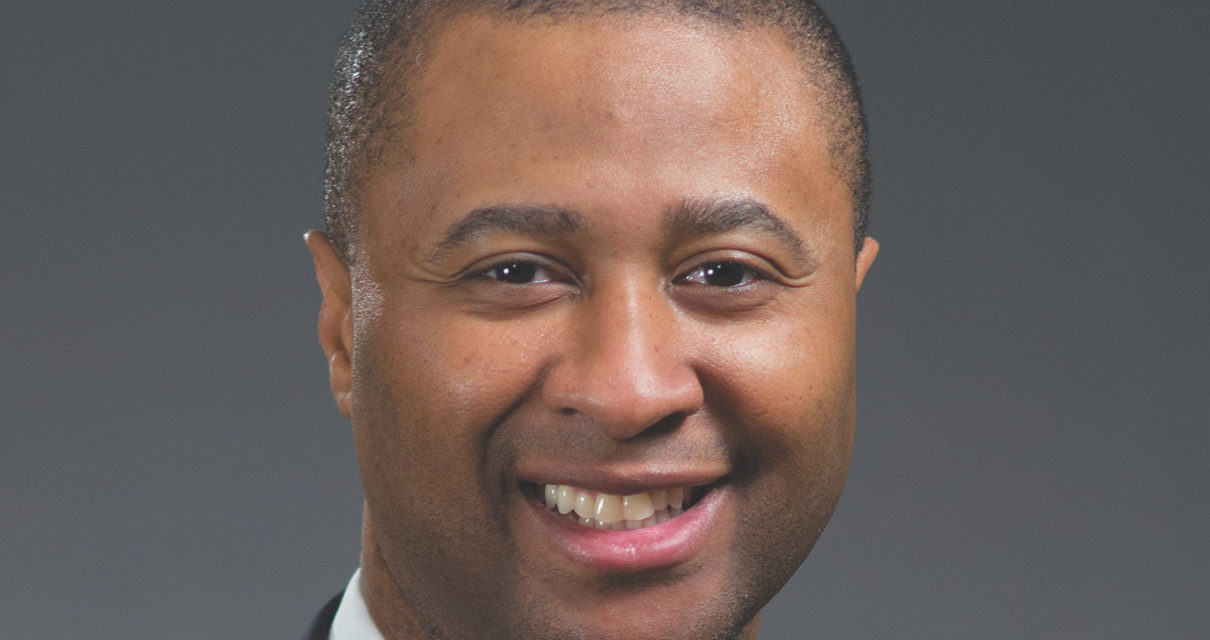 Damond Boatwright, SSM Health in Wisconsin regional president, is calling for people from all backgrounds to come together, in light of the"uncertainty and the ominous nature" of COVID-19, its disproportionate impact on vulnerable populations and marches against police brutality.
"Now's the time for us to come together as a society and as a nation to combat whatever enemy comes before us, whether it is a disease and this virus of COVID or the stain of racism as well," he said. "We're better together and we're stronger together as a society that helps one another."
SSM Health said this week that it's moving forward on a $75 million, five-story clinic on Fish Hatchery Road on the south side of Madison.
Boatwright discussed that project and COVID-19 in a recent interview with Wisconsin Health News.
Edited excerpts are below.
WHN: Has COVID-19 influenced the clinic's development?
DB: We're still on schedule to complete the project. I would say COVID-19 did cause a slight delay in when we had planned on doing our groundbreaking for that particular site. So we've had to adjust that a little bit in recognition of COVID and how we plan for it, obviously, because the groundbreaking wouldn't be in this traditional sense as it was before. But that being said, as of this week, we are moving forward with that construction site and with our partner Findorff to begin putting a foundation in place and the footing together for our building project.
WHN: COVID-19 has had a disproportionate impact on communities of color. What more can health systems like SSM Health do, that they're not already doing, to address some of these disparities?
DB: As someone who personally comes from one of those minority communities and as someone who now leads a major healthcare system in the state, I believe there's much more that health systems can do, including my own by the way. I believe we need to continue to invest and work on addressing the social determinants of health. Those social determinants of health have more of a long-lasting impact on improving health outcomes for minorities than simply the delivery of healthcare itself. Those social determinants are the things that most people know about. They're not just simply exercise and diet. This gets into the air that we breathe. This gets into whether or not there's food insecurity. This gets into whether there's high levels of unemployment, high levels of incarceration, high levels of illiteracy. So the social determinants actually have more to do with improving the health outcomes of many of these populations that have been disproportionately impacted.
And I think we as healthcare systems need to do more to build a relationship with those vulnerable populations where we sort of get to know on a personal level those vulnerable populations and why they're vulnerable, what's the root cause of the vulnerability. And then try to put mitigating solutions together so that we can sort of minimize that impact as best as possible. But you've got to get to know the community, you've got to get to know those who live in those communities and you have to try to provide a bridge between their environmental experience that's causing those health conditions to exist and inequities and solutions and the resources that are there.
To me, the Fish Hatchery investment is more than simply bricks and mortar. It really gets to the heart of what I'd like to see as an enabler to bridging the gap of those social determinants and those inequities that exist. Because you're going to have to get outside the four walls of the clinic space and be inside the communities in which these disparities exist in order for us to have a chance to put preventative measures together in order to do that. I love the Fish Hatchery project because it's right there on the south side. And let the record reflect, we, SSM, particularly through Dean, have been on the south side. Between Dean Clinic off of Carroll Street, its original location, and St. Mary's, in its original location, we've been on the south side over 100 years. So we have no reason to leave the community. We want to stay in the community and we want to continue to invest in the community in ways that address those health conditions.
WHN: Dane County has not been a hot spot for COVID-19, despite it being the second most populous county in the state. Why do you think that is?
DB: My humble opinion is I think that because of our communities overall adherence to the safer-at-home order, I think the fact – I know it's controversial but that's why I'm saying it's my opinion – that we initiated a safer-at-home order early in the process as well as followed the recommendations from our public health officials, I believe that's what has contributed to our community seeing lower numbers than other areas of the state as well as other states, by the way. I'm not going to call out any states, but I think those states that saw a higher prevalence of cases early on, when they look back, I think they all realize they should have applied some safe-at-home order sooner than they did and then obviously practice the social distancing recommendations that were in place. I personally believe that I'm biased, but I think putting those steps in place sooner contributed to our lower numbers.
WHN: Is SSM Health still preparing for a surge? How does it plan to deal with a potential increase in cases?
DB: The good news is that we actually have and are maintaining our surge plan. So we've thought that through. We've actually done a lot of planning, a lot of analysis, looked at our infrastructure, and we've found some very creative ways to increase the rooms in the event we have to implement a surge plan because we have a high prevalence of upper respiratory needs, COVID-19 needs, et cetera. So we have surge plans that we have already built. We think they're very solid. It allows us to increase our capacity up to, in some cases, 175 percent of its current capacity. We can mobilize those very quickly.
The only bad news to that, and it's sort of a mixed blessing, but we haven't utilized it because we didn't have to, right? So I can't tell you whether or not it's stress tested. But we do have good solid plans that we've put together so we can increase our surge capacity up to 175 percent. I hope we never need it, in all honesty. But in the event we do, we have a plan in place.
And then I'll finally say this. I really appreciate the collaboration that occurred throughout the pandemic because we had the top leadership at UW and Meriter – I know this is unusual when you see a competitor hospital providing credit to its competition – but I do want to say the level of collaboration that occurred, which may be a hallmark of our community here, is a testament to the fact that we were able to work together. And by working together, we were also able to identify where our capacity constraints are. And then we were working with the state as well as the city of Madison and determining that if we needed to exceed our capacity, what other plans can we put in place with the Army Corps of Engineers and the state in order to build additional capacity like some other states have done? And we've done that planning together as well. So I feel like we're as prepared as we can be until we actually use it.
WHN: In April, SSM Health, UW Health and UnityPoint Health-Meriter announced they were beginning to resume deferred procedures. How is that going?
DB: Here's where my personal concern is in all honesty. We've had a huge delay in a number of individuals getting the care that they likely needed. Now one silver lining is if it truly was an elective, non-emergent, non-urgent kind of care, then simply delaying that care should be OK because now we're resuming our operations and minimizing and reducing the backlog so that we can see those visits again. My worry though, and it's like my own dad, who has multiple medical conditions, it's important that you stay on top of those conditions. And what may seem innocuous and harmless and not important could become very urgent and emergent tomorrow if not attended. And so our desire to resume services as quickly as possible is not simply so we can see more volume per se. It's so we can identify if there are any underlying conditions that really needed to be attended to and addressed. We have the ability to do that.
WHN: Are you seeing any improvement on revenues as procedures resume?
DB: We saw a 50 percent decrease in our overall revenues early on. That's because again we stopped doing almost all elective cases as per the guidelines that were sent out by the Surgeon General as well as the CDC. So that had an immediate impact on us. The answer is yes. As we have slowly but surely been resuming our surgeries as well as our visits, we've now begun to see a better financial picture. We're not out of the hole that was dug very deeply in the very beginning, but we're starting to see us come out of that again. What's been very helpful is the stimulus dollars, both from the state as well as the federal government, which sort of minimized what would have been a financial free for all had we not had a little assistance to help with stabilizing things.
WHN: What resources are you dedicating to testing? Do you see a need for policymakers to do more?
DB: I think we're going to need to continue to get some help and some support around testing. I will say that although we started out maybe slowly, like many other states, when it came to testing, we now seem to be on firmer ground now. We have a dedicated team of lab professionals, providers, informatics that we formed that meets daily to review and address all of our testing needs for our patient population. I think many other health systems are doing something very similar. We have partnered, by the way, with several large labs across the U.S. We can't do it ourselves internally. We don't have that infrastructure. But we have partnered with several, large laboratories across the U.S. and Madison to achieve our current testing needs. We rely heavily on those partnerships to deliver timely testing results. I guess I'll do a commercial plug for Exact Sciences. They don't pay me to say that either, by the way, but since I gave my competitors some kudos at UW and Meriter, I'll give Exact Sciences on the local team some credit too. They really stepped up in this partnership with us to make sure that we have reliable supply and reliable turnaround time through our testing mechanism.
I would ask consideration by the policymakers that we're allowed to keep our testing local rather than supporting these very large, maybe multi-state kind of labs. If they can support local, homegrown organizations with the testing capabilities, so we can keep it closer to home as well as minimize long turnaround times, that would be one request I think I could make.
Wisconsin Health News is removing the password on all stories related to the coronavirus. For the latest developments follow us on Twitter at @wihealthnews or check out our website. For complete healthcare coverage, sign up for a free trial to our daily email newsletter.