Children's Wisconsin, Epic bring EHR record to surge facility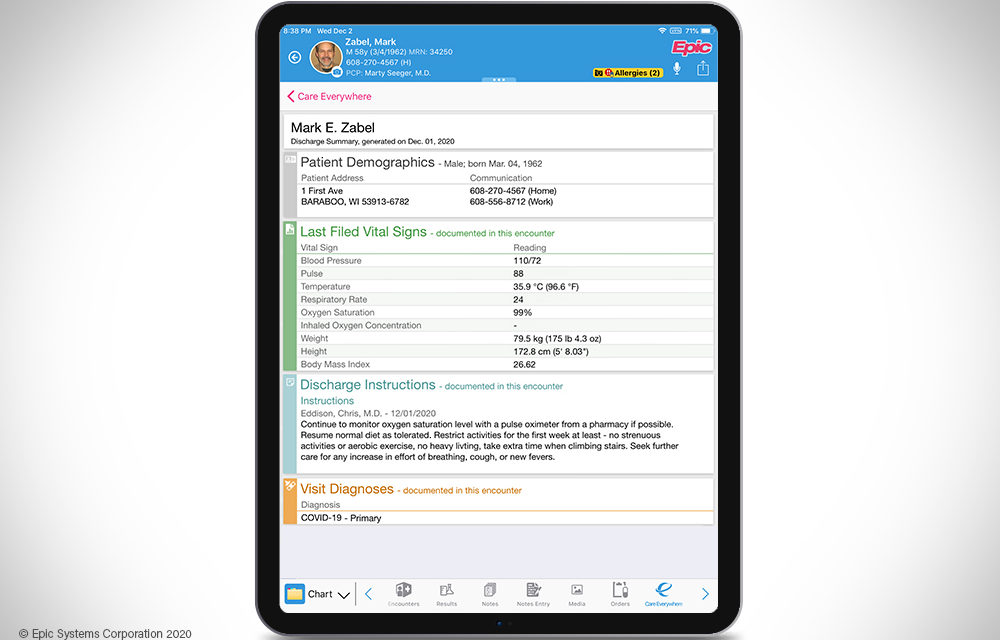 Image courtesy of Epic
In mid-October, the state opened a surge facility at State Fair Park to support COVID-19 patients no longer in need of a hospital, but still requiring more help than can be provided at home.
As of Friday, the West Allis facility had served 136 total patients.
Part of its setup involved dusting off work done in spring when Children's Wisconsin extended its Epic electronic health record so clinicians working at the facility could keep track of patients' vitals, medications and more.
The record also provides access to patients' histories, allowing staff to quickly look up needed information and see the care they received at other sites.
Verona-based Epic worked to set up its software earlier this year at alternate care facilities around the country, including Javits Center in New York City, McCormick Place in Chicago and the USNS Comfort, a Navy hospital ship that docked in New York City.
"We took what was typically a project that took several months to implement and whittled that down to be able to roll out in just a few days," said Aaron Geisinger, Epic's implementation director for the facility.
Geisinger said they provided the software, support and hardware at no cost to Wisconsin.
Craig Adams, vice president of IS technology and applications at Children's, said they got involved to support adult health systems and the state.
Adams said extending the system to the facility meant it didn't have to set their own electronic health record system from "the ground up" or have to use paper-based charting.
"What we're trying to do at Children's and Epic is to allow the ACF to really focus on that clinical caregiving role and take the technology challenges and just resolve them for them," Adams said.
Few patients came to the facility at first, which allowed time to ensure workflows were ironed out and that people were familiar with processes, Geisinger said.
The facility's census crept above 20 in the days before Thanksgiving before tapering off to the single digits after the holiday.
Geisinger said they slightly streamlined some of the documentation in their software so staff at the facility could use tablets and smartphones that allow them to move around the facility and quickly clean devices.
Since the facility opened, they've also had to make some updates as it adapted to the needs of the state. For instance, Epic added tools to help document patients with abnormal glucose levels.
The electronic health records vendor had to get the "most creative" when training clinicians at the facility, he said.
While they went on site to train the first group of staff, they created pre-recorded training videos that clinicians could watch as many times as needed for subsequent groups.
Normally, Epic staff would send workers to the site to help users. But that posed a risk to staff and patients, so they piloted completely virtual support.
"All you had to do was walk up to the device and say, 'Hey Epic, I need help,'" Geisinger said. "As soon as you said that, their camera would turn on and the support person was right there to help them walk through."
Geisinger said users could hold their tablets up to the camera and show Epic staff what was happening. "It was really just like we were there," he said.
This article first appeared in the Wisconsin Health News daily email newsletter. Sign up for your free trial here.