GrandCare Systems sees growth during COVID-19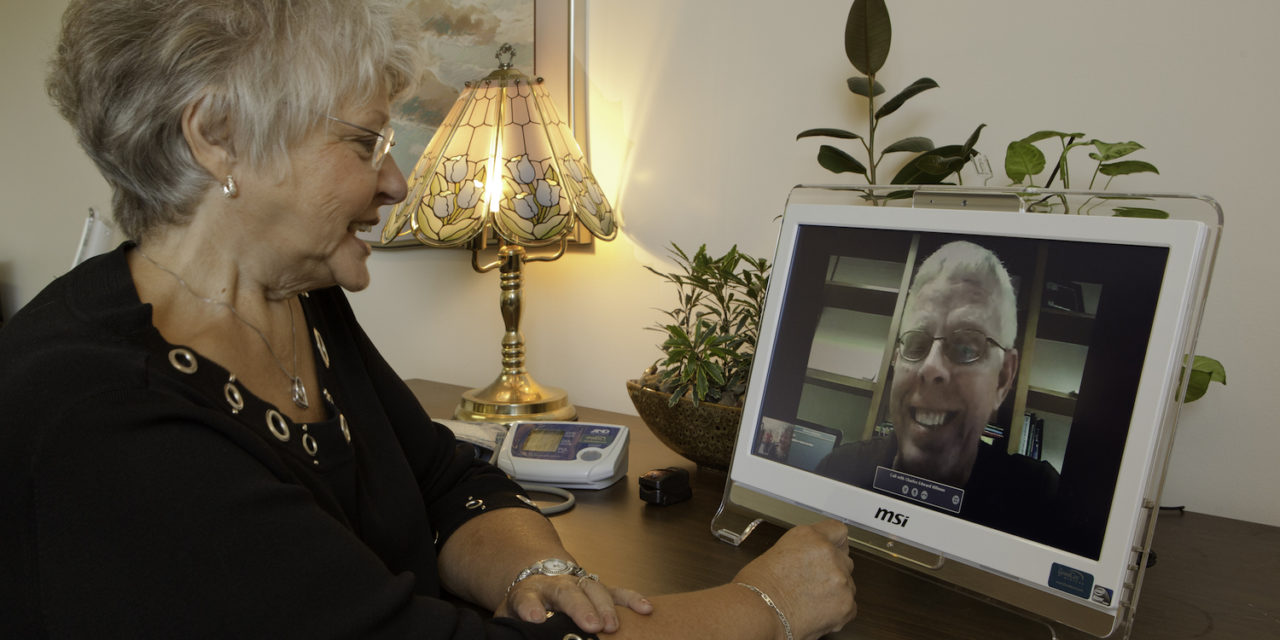 Image courtesy of GrandCare Systems
GrandCare Systems, headquartered in West Bend, has seen high demand during the COVID-19 pandemic for its platform that aims to empower seniors and those with disabilities to live healthier lives.
The software company, founded in 2005, recently opened an office in California to help fuel its growth. CEO Laura Mitchell said their revenues and client base have more than doubled amid the pandemic.
"It's just been a little bit of a silver lining during a terrible pandemic to show people what kind of innovation can help support better aging," Mitchell said.
Mitchell described GrandCare's system as a "vehicle" for providing services via a video chat platform on a touchscreen. It can also help with remote monitoring.
Mitchell recently spoke to Wisconsin Health News. Edited excerpts are below.
WHN: How has COVID-19 affected your business? 
LM: We have gotten an exponential rate of interest from potential customers, whether they be direct-to-consumer customers, which we don't have a big focus on, and we partner with some payers who are looking at alternate ways to provide benefits for their members who couldn't go and get those elective surgeries, who couldn't go to those doctors' appointment that were necessary during COVID-19. They had to provide a way to benefit those members.
One partner that we made was a Medicare Advantage plan in Wisconsin called Network Health. During the pandemic, they selected some members based on specific chronic conditions or social determinants of health, and then they provided GrandCare at no cost to those members in order to improve engagement with family and friends, in order to improve engagement with their care manager and to also reduce isolation and improve the member experience, as far as the happiness and engagement level.
During the pandemic, we actually expanded our market offerings to a lot of folks with developmental disabilities. A lot of our partners who currently serve folks with developmental disabilities have found that technology like ours can help those individuals maybe be a little bit more independent, whether they're living alone or in a smart group home. A lot of those folks might be at added risk for COVID-19. So they need to be extra careful. They would utilize it to offer remote support to those individuals, wherever they were living. And in fact, one of our partners was able to do a massive staff reduction while utilizing the technology. Just for a couple of months, they were able to document a staff reduction by having one caregiver be able to manage, I think what they said, was 20, versus before that it was one-to-six. So they were able to help that way. They were also able to help offer remote support by having someone in a central location that was able to video chat into multiple residences … they were saving windshield time and they were also saving that person from having to go from home to home.
WHN: What software changes did you make for the pandemic? 
LM: We have added a lot of new engagement features. One of our initiatives with Network Health, for example, was to prove that engagement, socialization and entertainment actually contributed to better health and engagement outcomes. So what we did was, we not only added on some survey capabilities for us to truly track, like 'Is this helping? Is this making you happier?' by asking a series of questions in different ways, but also we added in entertainment such as local radio stations. Something that we found during the pandemic is that people were losing their connection with radio, and part of that, we figured, was that they were no longer driving in their cars as much, which may have been where they were listening to their local radio station. We brought that to them, and they were able to select stations, and that was actually a huge hit. We brought a lot of old-time radio programs that you can play on the system such as the Shadow, Dragnet and different things like that as well as audiobooks, some classics like Call of the Wild, Anne of Green Gables and Alice in Wonderland. They would be able to listen to those right from the GrandCare system.
In addition to that, the family, care managers can video chat with them. We noticed that a lot of folks that lived in different levels in a continuing care retirement community – so for example, if a wife lives in assisted living and the husband lives in memory care – during the pandemic, they could no longer see each other. So they would be able to use one GrandCare to video chat with the other GrandCare, and that was really powerful so that neither of them had to have any sort of smart device in order to do that.
WHN: What other Wisconsin groups are you working with?
LM: In general, GrandCare is an international company. We work together with a number of different countries from the U.K., New Zealand and Canada to all across the United States … Network Health and Inclusa are two of the main ones that we do work with in Wisconsin.
Inclusa offers remote support and services to folks with developmental and other sort of disabilities. And they are currently utilizing it as a tool for their clients. They're talking to their clients. The clients are saying, 'Hey I want to be more independent, I want to know when to take my medications, I want to better mange my health, I want to be able to better communicate with family and friends, without having to utilize a smart devices,' whatever that might be. They're providing GrandCare to their clients and helping them to set it up and use it. So they are acting as an affiliate as far as recommending us as they would any other service. We have been vetted and approved as a vendor for them.
From the Network Health standpoint, they are providing, at this time, GrandCare Systems in order to improve the health, happiness and engagement of their members. They're also utilizing it to provide information to their members. For example, 'Where's the nearest vaccine to me?' They're utilizing it to share sickness videos and health information so best practices, healthy recipes, better ways to take care of yourself. They're utilizing it to just encourage a healthier lifestyle, but also allowing them to have some fun with it.
They can set up medication reminders to be reminded of when it's time to take medication. So in general, it's just the healthier their members are, the better Network Health will do.
WHN: What sort of challenges have you faced with adoption?
LM: The pandemic has helped in a lot of ways. Previously, I think there was some fear around change, and there was some fear around utilizing technology at all. But now that fear has really gone away.
So right now, our biggest challenge might be the internet connection. So we offer two options. If they have an existing internet connection, whether it's wired or wireless, we can work together with them. If they don't have an internet connection, we have a cellular … Other than that, we haven't really faced any big challenges because price is not really a problem, especially considering the alternatives.
WHN: Are you concerned about a decline in interest after the pandemic? 
LM: I'm not. I think you can't put the genie back in the bottle. I think that people are very focused on being able to stay in their homes. I think that people have realized, 'It doesn't make sense if I'm sick to go to a place where a lot of other people are sick. It makes a lot of sense for me to be able to do something from the comfort of my home especially if I can be tracking my biometric readings and vitals and providing that to a doctor and have a telehealth visit, whether it's one-on-one or asynchronous, just to provide answers for my questions.' I think a lot of people are recognizing the value and the fact that it's way more cost effective.
Our biggest two markets are the disability space and senior space. From an aging perspective, it could be just congregate living, it could be a long-term care provider that's looking to provide it to their residents. But in general, the senior housing population has been hit the hardest, as far as from the pandemic. So a lot of folks now want to stay independent in that home for longer, and they can by utilizing technology like this. Not to mention, they can also have family, regardless of where they're geographically located, participate in engaging with them and also participate in helping manage chronic conditions.
This article first appeared in the Wisconsin Health News daily email newsletter. Sign up for your free trial here.