Mental health advocates push for investments in upcoming budget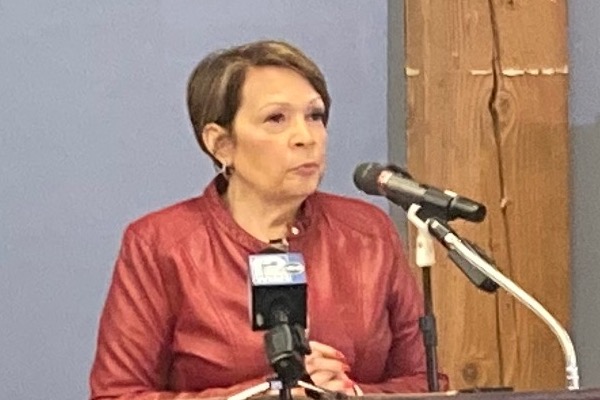 Community advocates in Milwaukee made the case Monday for lawmakers to use the upcoming state budget to invest in mental health.
"Communities across the state have sounded the alarm on the need for more resources to address the mental health and behavioral health needs of our residents," Milwaukee County Executive David Crowley said at Independence First. "We need to continue to fund these services across the state so that governments can be a part of the solution that brings needed resources to the doorsteps of the most vulnerable residents and most vulnerable neighborhoods."
Crowley, speaking at an event held by the Milwaukee Mental Health Task Force, called on Republican lawmakers to reconsider a decision last week to strip Gov. Tony Evers' proposal for student mental health from the state's 2023-25 budget.
Meanwhile, 37 groups — including county human service agencies, providers, law enforcement and mental health advocates — sent a letter to the Joint Finance Committee last week calling for $40.8 million over the next biennium to cover the non-federal share of Medicaid for the Community Support Program, which provides services to people with severe mental illness.
The current requirement that counties cover all costs not reimbursed by federal Medicaid dollars has led to inequities, delays in enrollment and a decrease in program participants, they wrote. Meanwhile, psychiatric emergencies are straining hospitals, law enforcement and the Winnebago Mental Health Institute in Oshkosh. Wisconsin is using its state hospitals at 2.5 times the national rate, according to the letter.
Mary Neubauer, Milwaukee Mental Health Task Force co-chair, called for an expansion of peer-run services in Wisconsin. That includes peer-run respites, which are places where individuals with mental health and substance use issues can receive help from people with lived experience. Drawing on those with lived experience can help folks in need who are facing a "tremendous shortage" of mental healthcare workers, she said.
Neubauer also backs expanding the Opening Avenues to Reentry Success Program, which aims to support those leaving prison with serious mental illness, from 51 counties to all 72 countries.
Barbara Beckert, Disability Rights Wisconsin director of external advocacy, said supporting the Community Support Program and re-entry programs can help Wisconsinites.
"Far too many people with mental illness are in our prisons and jails and in our hospital systems," Beckert said. "Investing in these programs can help people to be successful in the community and makes a lot of good sense for the budget."
Meta House, a substance use disorder treatment provider serving women in Milwaukee, requested that lawmakers keep a $16.6 million plan in the budget to cover the room and board costs for Medicaid members seeking residential treatment. Federal law bars the program from covering those costs, which some counties and tribes lack the resources to cover.
Maria Gonzalez-Edwards, a board member for Meta House, credited the residential treatment with changing her life.
"I've helped shape countless lives and families as a teacher, administrator and principal through the Milwaukee Public Schools system," she said. "I am certain that this would not have been possible had I not been given a bed in the residential treatment program at Meta House 35 years ago."
Katy Schmidt Hagmeyer, a deaf mental health advocate and therapist in private practice with Deaf Inspire, backed a policy in Evers' budget that would establish a $1.9 million deaf, hard of hearing and deaf-blind behavioral health treatment program. She said she's the only full-time therapist in the state treating the population.
"People have begged me for help, but I can't offer anything more," she said. "I'm the only one here."
Maria Perez, vice president of behavioral health at Sixteenth Street Community Health Centers and chairwoman of the Milwaukee County Mental Health Board, said funding community-based services is vital.
"The return on this investment means healthier communities, vibrant adults and elderly, happier children and youth, less addiction and lower suicide rates," she said. "I dream of a world where all of us are mended and recovered."
This article first appeared in the Wisconsin Health News daily email newsletter. Sign up for your free trial here.