Project aims to provide healthy food to 120 expectant Milwaukee mothers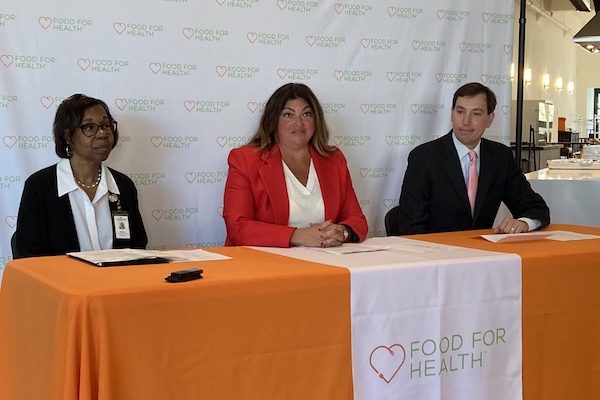 Progressive Community Health Centers and Food for Health are working together to provide medically tailored meals, nutrition education and well-being coaching to 120 expectant mothers in Milwaukee.
"This program addresses the gap in access to healthy and fresh food, health coaching and nutritional support experienced by underserved, expecting mothers at high risk of adverse birth outcomes," said Kathy Koshgarian, CEO of Food for Health, a public charity and community-based organization that is the only medically tailed meal provider in the state. "The need is big."
A 2021 report found complications from preterm birth accounted for nearly half of all infant deaths and 52 percent of Black infant deaths in Milwaukee between 2016 and 2018. Expectant mothers' diet-related conditions were a contributing factor, Koshgarian said at a press conference last week.
The project will involve three-quarters of high-risk prenatal patients with diet conditions like diabetes, hypertension, obesity and preeclampsia at Progressive, a community health center in Milwaukee with three locations.
"Having tailored food come to them — directly to their home — will help them with their related health issues," said Donna Whitson-Jones, a community health worker at Progressive.
Whitson-Jones noted maternal morbidity among women is a national epidemic that's even more pronounced in the Black community.
The Advancing a Healthier Wisconsin Endowment at the Medical College of Wisconsin awarded $500,000 to support the project, one of 10 efforts backed by federal COVID-19 relief funds allocated to the endowment by the Department of Health Services to address maternal and child health disparities.
"This project is so important," said Dr. Jesse Ehrenfeld, endowment director. "We see so many complications in pregnancy because of diet-related health conditions that disproportionately affect underserved communities."
The effort is a yearlong demonstration project.
Koshgarian would like to expand the programming to additional expectant mothers at Progressive and other community-based organizations.
"My vision is that this would be one of the core solutions in addressing and bending the trend relative to what we're seeing with the increased need for maternal health in Milwaukee and infant mortality," she said.
This article first appeared in the Wisconsin Health News daily email newsletter. Sign up for your free trial here.