Coronavirus likely spreading in Wisconsin, say health officials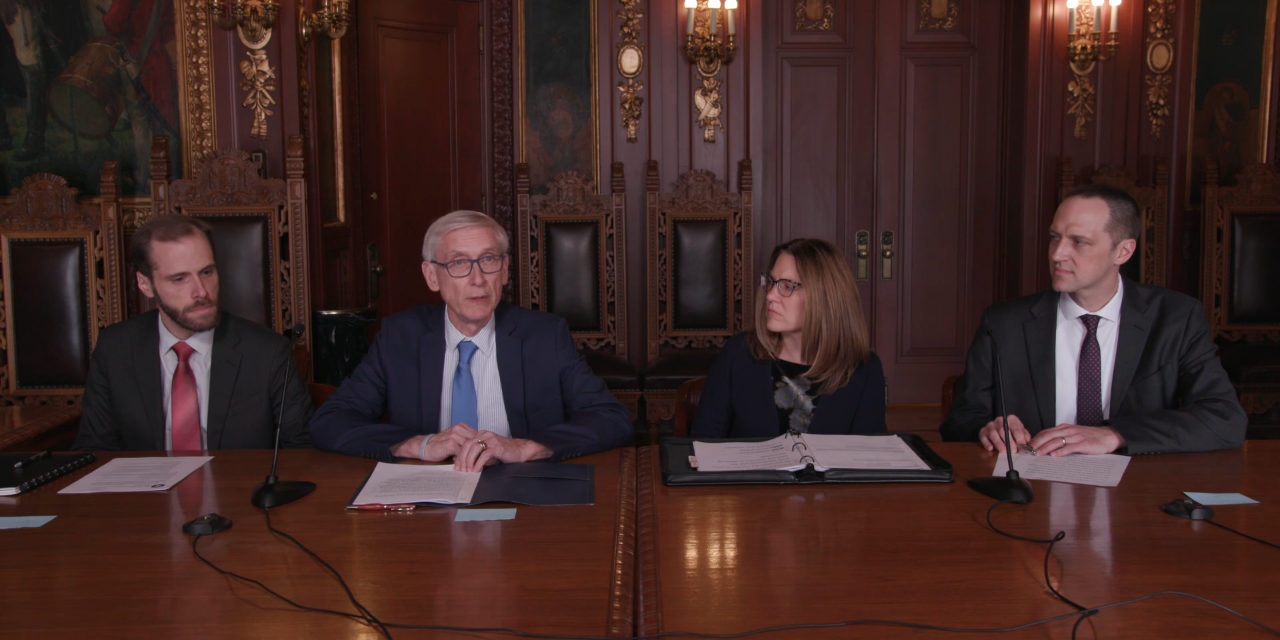 State health officials said Monday they believe that the new coronavirus is spreading in Wisconsin communities.
Gov. Tony Evers on Monday also banned gatherings of 50 or more people starting at midnight.
And 11 Milwaukee County municipal leaders, including City of Milwaukee leaders, said they're ordering bars and restaurants in their jurisdictions closed to in-house patrons on Tuesday until further notice.
Restaurants with take-out and delivery will still be able to operate those services.
The municipalities are Milwaukee, South Milwaukee, St. Francis, Bayside, Brown Deer, Cudahy, Fox Point, Glendale, River Hills, Shorewood and Whitefish Bay.
"We are in unprecedented times, and that calls for unprecedented actions," a statement from the group noted.
There have been 47 confirmed cases since the outbreak began as of Monday afternoon, including one recovered case. There have been 504 negative tests.
While the data collection on the new cases isn't complete, officials have heard from people with the illness who don't have a travel history or exposure to a previously known case, said Dr. Ryan Westergaard, chief medical officer of the Bureau of Communicable Diseases at the Department of Health Services.
"That is sufficient for us to say they're not travel-associated and likely reflect person-to-person spread inside Wisconsin," he said on a Monday press call.
Westergaard said that he doesn't think COVID-19 is in all Wisconsin communities, but is worried it could be in the future. He called for social distancing measures.
Gov. Tony Evers on Monday directed DHS to ban mass gatherings of 50 or more people, starting Tuesday. Critical services – like grocery stores, food pantries, childcare centers, pharmacies and hospitals – are exempt.
Restaurants and bars have to operate at less than 50 percent capacity or have fewer than 50 people, whichever is less, and follow guidelines on social distancing.
"Keeping folks safe and healthy has to be our highest priority," Evers said. "This situation requires the support of all in Wisconsin."
Evers said that complies with the Centers for Disease Control and Prevention guidelines released over the weekend. "We're following the science," he said.
After Evers' announcement, the White House recommended that people avoid gatherings of more than 10 people Monday afternoon.
Evers said that the Trump administration's message isn't that different from the state's message.
"I'd say avoid people, period," Evers said. "But that is not a mandate. Our mandate is around 50, and that's where it will be until such time that we believe we need to change it. We believe it's reasonable."
DHS officials on the call highlighted Monday who should be tested for the disease. Testing shouldn't be done for those with no symptoms, Westergaard said.
Those with common cold symptoms shouldn't be tested unless part of a public health investigation or if they're healthcare workers and should self-isolate.
Those with a flu-like illness with respiratory symptoms should be tested. Hospitalized patients should be prioritized, he said.
DHS Secretary-designee Andrea Palm said testing shortages are a nationwide problem.
She said that the state lab is ramping up capacity as quickly as they can, and turning around tests in one or two days. Private labs and clinical labs have different approaches, so their turnaround times are different.
"We are very anxious for additional hospitals around the state of Wisconsin and other private labs to come online and support the increased capacity we need here in the state of Wisconsin and that all other states need around the country," she said.
Westergaard said they're hoping to eventually get tests done at the point of care similar to the rapid flu test.
However, the current method involves transmitting specimens from patients to local labs in the hospitals and then to reference labs like the State Lab of Hygiene, which is now testing seven days a week with a capacity for 400 tests a day.
Wisconsin Health News is removing the password on all stories related to the coronavirus. For the latest developments follow us on Twitter at @wihealthnews or check out our website. For complete healthcare coverage, sign up for a free trial to our daily email newsletter.