Evers' safer-at-home extension draws support from health groups, opposition from GOP, WMC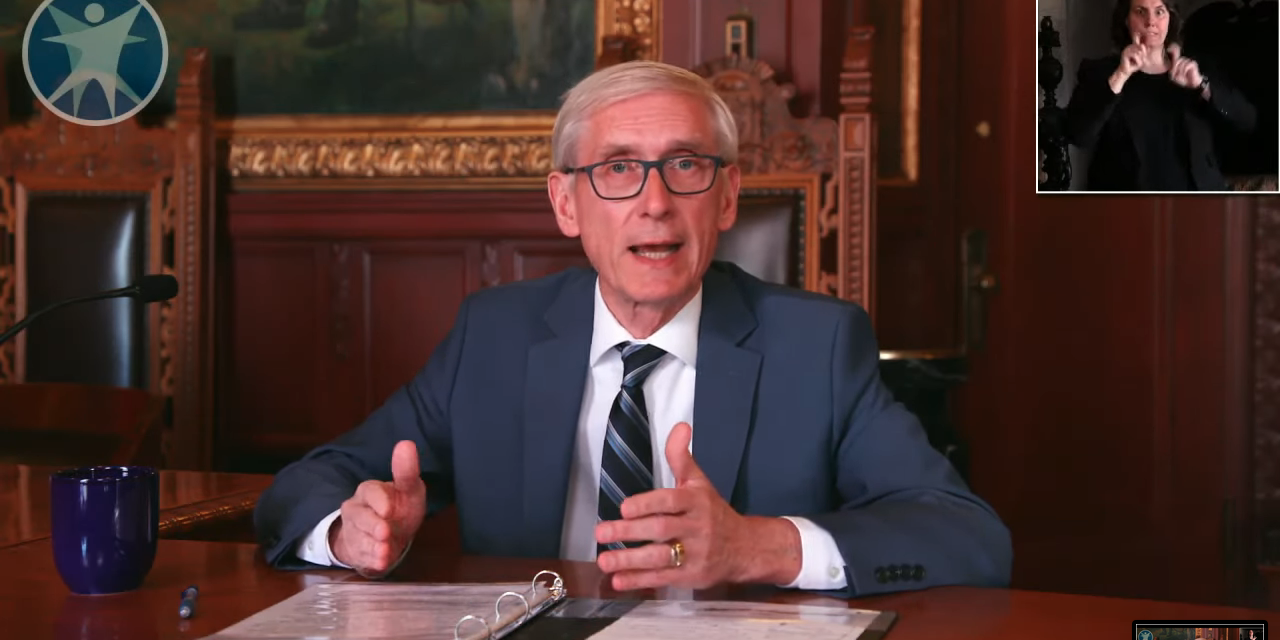 Gov. Tony Evers on Thursday directed the Department of Health Services to extend the state's safer-at-home order through May 26, an action backed by health groups but drawing concerns from Republicans and the state's largest business lobby.
The new order closes schools for the remainder of the academic year. It lets golf courses reopen and public libraries as well as other businesses deemed non-essential in the current order to start offering delivery and cub-side pick-up options.
The new order also calls on essential business to increase cleaning and disinfection practices and adopt policies to prevent workers exposed to the disease from coming to work.
It directs retailers to limit the number of people in a store at one time and to create dedicated shopping time for vulnerable populations.
It takes effect April 24, when the current safer-at-home order ends. Evers told reporters Thursday that reopening the economy will be a gradual process.
"No one wants to reopen our economy as much as I do, but the bottom line is that our business, our workers and us as consumers can't be confident if we're not confident about our safety and our health," he said. "We can't think of this like flipping a light switch. It's like turning a dial. The more disciplined we are now, the faster we can turn it."
Evers said they're "going to be working hard as hell" to expand testing, get more personal protective equipment and scale up contact tracing. Getting those in place could mean the state reopens earlier.
Republicans criticized the new order, with Sens. David Craig, R-Town of Vernon, and Steve Nass, R-Whitewater, calling for the ouster of DHS Secretary-designee Andrea Palm. Palm's appointment is still subject to Senate confirmation.
"Legislative Republicans are planning to act with legal and legislative options to deal with the extension of the order and get answers to the questions our constituents are demanding," a statement from the Assembly Republican caucus noted.
Senate Majority Leader Scott Fitzgerald, R-Juneau, said rural counties haven't seen the number of cases that urban and suburban Wisconsin has seen, yet are bearing the "full economic impacts of this crisis."
Extending the order without a plan for how to reopen the state's economy or clear benchmarks for an early extension "is simply unacceptable," he said in a statement.
Fitzgerald added that the provision goes beyond the 60 days of the public health emergency declared by Evers.
"The Senate has not been part of this conversation and we are planning to look for legal or legislative relief to truly work with the governor to make these very serious decisions that will have long-term effects on our businesses, our children and our way of life," he said.
Wisconsin Manufacturers & Commerce CEO Kurt Bauer said they understand previous actions, "but the time has come to also protect livelihoods."
He called for a plan that could slowly phase in certain geographic areas of the state and work with specific industries to ensure they protect their employees.
"Not only are there legal questions about the administration's authority to extend the safer-at-home order to May 26, there are fundamental questions about why this decision was made," he said in a statement. "WMC is disappointed with this order that will inevitably lead to more business shutdowns and Wisconsinites losing their jobs."
Ryan Nilsestuen, Evers' chief legal counsel, said the safer-at-home order is distinct from the public health emergency declared by the governor that expires May 12.
Nilsestuen said the emergency gave Evers powers to ramp up the response to COVID-19, like suspending administrative rules and allowing public health officers to recoup certain expenses from the state.
DHS and Palm have long-standing laws to fight communicable diseases that are not dependent on a state of emergency, he noted.
Evers disagreed about opening the economy in different areas of the state, noting that likely every county has COVID-19 cases, even those not reporting cases since testing until recently was reserved for more severe disease. Smaller counties and municipalities have fewer resources too.
"One spike in one county could be devastating," he said. "It could close down a small rural hospital in a few days. So we have to have a statewide approach."
Metropolitan Milwaukee Association of Commerce President Tim Sheehy said the state needs to engage in a "phased re-opening of businesses" based on regional and state data and trends.
He said they're asking for flexibility in setting any date.
Employers need to lead in the next phase by collaborating on ways to ensure the health and safety of workers and customers, he said.
"Until there is a widely available vaccine, we are all going to need to operate in a manner that keeps the spread of COVID-19 from impacting our healthcare systems," he said in a statement. "We believe our members are up to that task."
A coalition of healthcare groups, including those representing doctors, nurses and long-term care, thanked Evers and Palm for the order. They noted that while trends have been positive, it's still possible the state's healthcare system could be "overwhelmed in 'hot spots.'"
"We are sympathetic to the significant adverse impacts the COVID-19 pandemic has had on our state and national economies, as well as our daily lives," they wrote. "Such decisions to reopen should be based on sound data, evidence and collaboration, to achieve the best outcomes for everyone."
The Wisconsin Association for Local Health Departments and Boards and the Wisconsin Public Health Association said in a joint statement that they're grateful for Evers' announcement. They also called for a "smart re-start" of the economy.
"We need to remain committed to sound, science-based practice to make sure we sustain our progress to date and best position our communities for future growth and prosperity," said David Pluymers, Wisconsin Public Health Association president. "To do otherwise will only further delay our return to normal."
Dr. John Raymond, Medical College of Wisconsin CEO, wrote in an email that Evers is trying to stabilize the "hard-fought public health gains" the state has made and trying to find a way forward to re-open some businesses and help keep workers safe.
"That is a difficult balance because we sorely lack critical information about the behavior and epidemiology of the COVID-19 virus," Raymond said.
Other COVID-19 updates:
Wisconsin's unemployment rate is at roughly 15 percent of the state's workforce and state revenue losses are expected to exceed $2 billion over the next year, according to a letter sent by Evers and the governors of Pennsylvania and Michigan to President Donald Trump.
There have been 197 deaths from COVID-19 in Wisconsin, DHS said Thursday. There have been 3,875 positive and 40,974 negative tests.
Evers said Thursday that he's collaborating with other Midwest governors to work together on reopening the region's economy. Evers said he'll be working with governors from Illinois, Michigan, Ohio, Minnesota, Indiana and Kentucky.
The federal Small Business Administration has approved loans to nearly 32,000 Wisconsin businesses, totaling more than $7.2 billion, according to Wisconsin Economic Development Corporation CEO Missy Hughes.
Wisconsin Health News is removing the password on all stories related to the coronavirus. For the latest developments follow us on Twitter at @wihealthnews or check out our website. For complete healthcare coverage, sign up for a free trial to our daily email newsletter.