Some testing supplies provided by feds to Wisconsin aren't usable for COVID-19 tests, say Baldwin and Pocan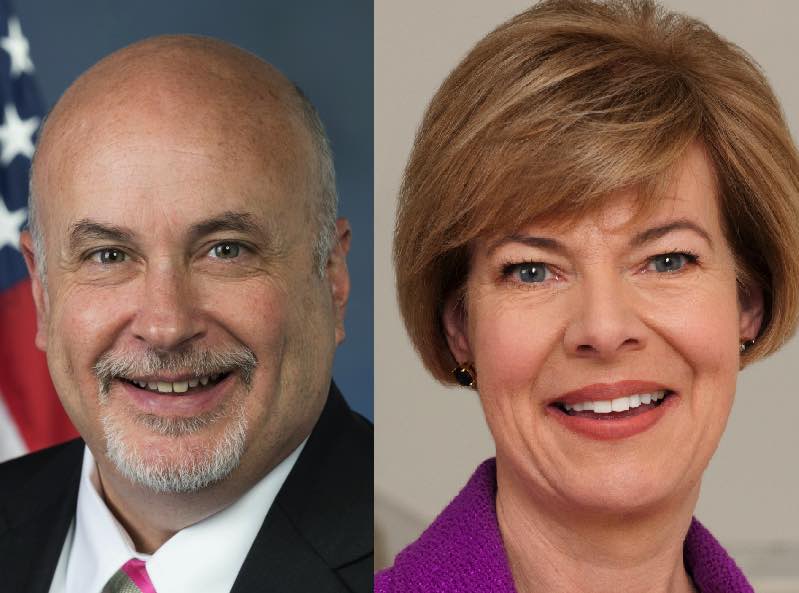 Many of the testing materials shipped by the federal government to Wisconsin can't be used to help with COVID-19 testing, U.S. Sen. Tammy Baldwin, D-Wis., and U.S. Rep. Mark Pocan, D-Madison, said this week.
The two lawmakers sent a letter to the Federal Emergency Management Agency on Monday. They noted that 17,000 saline tubes provided to the state as of May 29 are too short to transport the swabs used for a majority of COVID-19 tests, and the 67,983 foam applicators provided cannot be used for those swabs.
"More than 60 days into a national emergency, these mistakes cannot continue to be made – they will cost human lives," they wrote.
The agency did provide 14,000 nasopharyngeal swabs, which the lawmakers said is what the state needs. They asked for more.
Department of Health Services spokeswoman Jennifer Miller said they've still been able to ramp up testing.
"We are lucky that we've been able to continue increasing our testing rates despite the usability of these supplies to date," she said in a statement. "The system is built on trust and reliability, so we are actively working to be sure that the supplies that we share are adequate and usable. And we work to correct any errors as we go along."
Alana Sterkel, assistant director of the Communicable Disease Division at the Wisconsin State Laboratory of Hygiene, said they've been in regular communication with the Department of Health and Human Services and FEMA about supplies. Some received by the state were unlabeled.
"There's still a legitimate concern about some of these products being usable or appropriate for COVID testing and we're still investigating how best to use them," Sterkel said.
For instance, Sterkel said they were surprised to receive what appeared to be 5,000 cotton swabs, which aren't supposed to be used for testing.
Sterkel said federal agencies have clarified that those are polyester swabs that may be used even if they're suboptimal.
"We are advocating for supplies that would be more appropriate for this kind of testing and working with HHS and FEMA on trying to get those supplies," Sterkel said.
Sterkel said the one item they've received from FEMA that's most concerning is molecular transport medium, which can produce cyanide gas when mixed with bleach.
The tubes they received were unlabeled and could be confused with saline. So the state didn't send them out to laboratories because of the safety risk and is now evaluating how to label them or find a lab that can safely take them, she said.
Many labs wouldn't be able to take the product as bleach is regularly used in COVID-19 testing to remove contamination from the testing area, she said. Those taking the tubes need to be informed of the risk, she said.
Pocan and Baldwin called FEMA's support critical to the state's response to COVID-19, and noted the agency has provided more than 358,600 N95 respirators and 159,000 medical gloves. But the provision in some cases was less than the state requested.
For instance, Wisconsin requested 273,631 surgical gowns. It had received none as of May 29. The state had less than one week's worth of gowns last week, according to the letter.
"More than two months into this national emergency, this is unacceptable," they wrote.
A FEMA spokesperson said the agency received the letter Monday and is working on a response.
"FEMA continues to support the White House Coronavirus Task Force, and its federal interagency partners, as the operational lead for the COVID-19 response," they said.
Pocan and Baldwin also asked FEMA to reconsider its role and start providing reagents, key ingredients needed to run COVID-19 tests.
So far, the agency has referred Wisconsin to the Centers for Disease Control and Prevention's International Reagent Resource, according to the lawmakers.
An HHS spokesperson said their lab diagnostics task force is working with the International Reagent Resource to ensure it's fully supplied with COVID-19 testing supplies for public health labs.
"However, everyone is welcome to purchase on the open market," they said.
They noted HHS has provided four Wisconsin labs with a ThemoFischer Workflow Kit, which includes enough testing materials for 9,600 tests.
Those kits were sent last week to the Wisconsin Diagnostic Laboratory, Wisconsin State Laboratory of Hygiene, Marshfield Clinic Health System and ACL Laboratories, according to HHS.
Wisconsin Health News is removing the password on all stories related to the coronavirus. For the latest developments follow us on Twitter at @wihealthnews or check out our website. For complete healthcare coverage, sign up for a free trial to our daily email newsletter.