AMI Expeditionary Healthcare runs state's COVID-19 vaccination clinics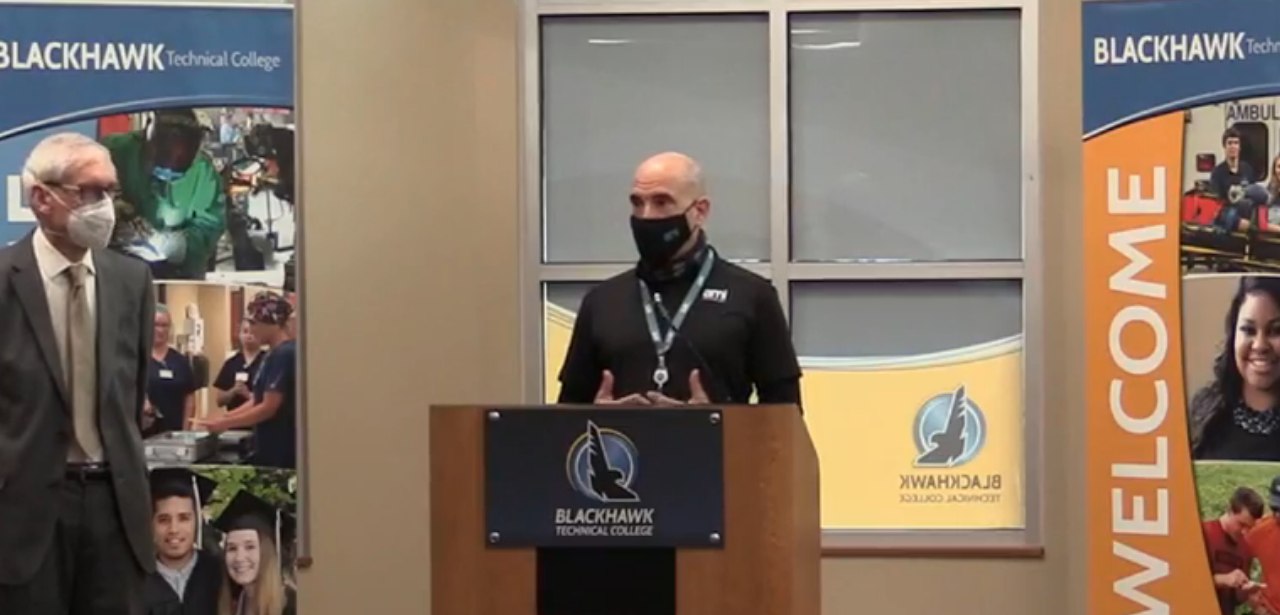 Image from Blackhawk Technical College's Facebook
The Department of Health Services' second community-based vaccination clinic is set to open Monday at the University of Wisconsin-La Crosse.
The state's first clinic opened in Rock County in February, and DHS said at the time they hoped to open six to 10 additional sites, pending need and vaccine supply.
The La Crosse clinic will initially prioritize residents 65 and older on the local health department's waitlist.
The clinics are run by AMI Expeditionary Healthcare, a Virginia-based, physician-led healthcare support organization, in collaboration with the UW System, local public health departments and others.
DHS has plans to open clinics in Racine and Marathon counties. An additional clinic will be split between Barron and Douglas counties.
Daniel Beck, senior operations manager at AMI, said they want to get as many Wisconsinites as they can vaccinated as quickly as possible.
"We're here to support the community and really want to, at the end of the day, make sure that everybody who comes to one of these clinics really feels like they were cared about," Beck said in an interview this week with Wisconsin Health News.
Edited excerpts are below.
WHN: How has COVID-19 impacted your work?
DB: For 14 years, AMI has been providing medical care really in some of the most austere conditions and locations around the globe … COVID really created that set of austere and challenging environments right here domestically.
Back in the early fall, AMI, through some of its contacts with some of the entities it had already worked with, actually was asked to come in and provide testing services as well as alternate care facilities, basically creating field hospitals here in the United States. We did that in a number of states and the Navajo Nation. Essentially, those care facilities led to AMI being asked and contracted with a number of states and jurisdictions throughout the country to do testing, including work we did directly with (the Centers for Disease Control and Prevention) to provide testing services for them during some of their surge investigations. And, as you can imagine, having set up testing and alternate care facilities for COVID, moving into executing mass vaccination services was a natural next step.
WHN: How were you involved in Wisconsin before the vaccination clinics opened? 
DB: CDC would send out their epidemiological teams to go out to do studies and support state public health departments with investigations around COVID surges. CDC was operating in Wisconsin, and we provided the testing services for the CDC teams … so that was how we were introduced and started building our partnership with the state of Wisconsin, in particular DHS.
WHN: How did that partnership develop?
DB: Wisconsin was the very first state in the nation to actually seek and put out requests for proposals for private companies to support their vaccination efforts, so a very innovative approach from the state. We had an opportunity to compete for that. We wound up winning the selection to support the state.
WHN: What is your role? How are you staffing facilities?
DB: In Rock County, the site that was selected for the vaccination clinic was at Blackhawk Technical College. So the site is identified and provided by the local health department and then we come in and we provide the staffing support, operations-logistics support to run that clinic. We really run that clinic end to end. All the services, including administration of the vaccine, are managed by AMI staff.
In the case of Wisconsin, we're working very hard to make sure the staff that we actually hire to support these clinics are not just from Wisconsin, but specifically from the local jurisdictions where we have that clinic. In the case of Rock County, and our community-based clinic that we're training for and setting up in La Crosse, the entire staff of the clinic itself is made up of local Wisconsin hires.
WHN: How has the Rock County clinic gone? 
DB: A challenge nationwide is the availability of the allocation of vaccine. So for the first weeks of operations at Rock County, and this is our third full week of operation, that site was allocated 1,000 doses for the week. Those registrations and appointments have been full for both weeks.
The overall process was really to provide an opportunity for Rock County, in coordination with the state, to really address some of the more underserved and vulnerable populations, those who were eligible but not previously able to get appointments either through healthcare systems, pharmacies, etc. So this provided a stop-gap measure in the county to help address some of those folks identified by the county as needing an alternate location to be able to receive that vaccination. Ultimately, the expectation is that these sites could go up to as much as 1,000 doses per day.
WHN: When do you anticipate the other locations to open? 
DB: The process of hiring – especially because of our commitment to do local hires – getting those folks on board, effectively trained and the sites set up, it's about a two-week cycle right now for ramping up for our next sites. So presently we will be operational in La Crosse next week and within another week or two we expect to be operational in Racine.
WHN: AMI has also been reaching out to medical, pharmacy and nursing schools to work with their students. Can you elaborate? 
DB: The intent with those is to provide experiential opportunities for those students and simultaneously to be able to leverage this pool of qualified resources to come and support those vaccination efforts. We've already engaged and have two pharmacy students that are coming from Concordia's School of Pharmacy. One of those students has been engaged since our first day of operation. So far it's been an absolutely fabulous partnership. We could not be more impressed with the quality of students we've seen so far. Really looking forward to as we continue to grow the number of community-based vaccination clinics that we'll be able to grow those partnerships and see even more students coming out.
This article first appeared in the Wisconsin Health News daily email newsletter. Sign up for your free trial here.