Evers issues "safer-at-home" order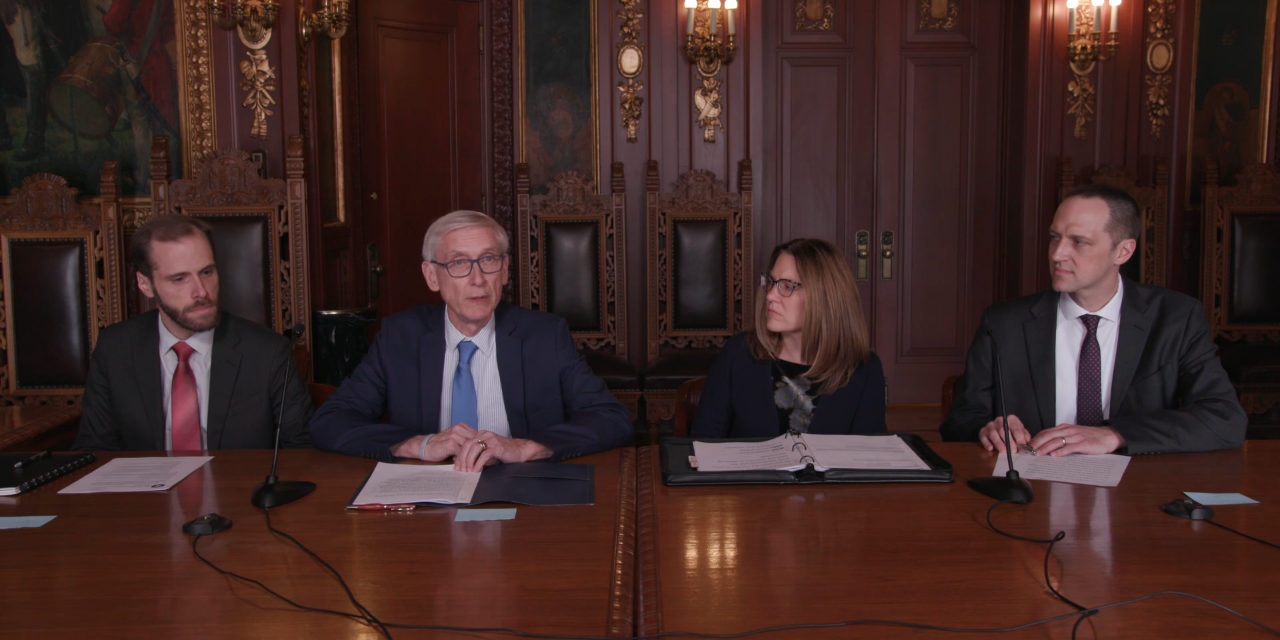 Gov. Tony Evers' administration issued an order Tuesday that will require people to mostly stay at home except for essential travel like buying groceries, visiting the doctor, picking up medicine or caring for others.
The order, aimed at limiting the spread of COVID-19, will take effect 8 a.m. on Wednesday and remain in effect through 8 a.m. Friday, April 24 or until a superseding order is issued, according to Evers' statement.
The order allows healthcare operations, banks, child care facilities, grocery stores and other essential businesses to remain open, the statement noted.
"Let's all do our part and work together," Evers said.
There were 416 positive tests of COVID-19 across 30 counties in the state as of Monday afternoon, the Department of Health Services said. There have been five deaths, including a 54-year-old Milwaukee man who died Monday. So far, 7,050 have tested negative.
The City of Milwaukee issued its own nine-page, stay-at-home order late Monday night, with exemptions for essential business and operations. The city plans to modify its order to align with Evers' order when it's released.
Local law enforcement will enforce the governor's order, Ryan Nilsestuen, Evers' chief legal counsel, told reporters Monday.
Evers said that he was acting on the advice of public health experts and that on a call Sunday night, business leaders "were insistent" he move forward with the order.
"Issuing a safer-at-home order isn't something I thought we'd have to do," he told reporters Monday. "It's not something that I wanted to do. And it's not something that I take lightly. We're all in this together and we need to help stop the spread of COVID-19 and flatten the curve to ensure that our doctors and nurses and healthcare workers have the opportunity to do their important work."
Evers said that as of Monday, they were still deciding what businesses will be considered essential.
"It's not soup yet," he told reporters on the call. "Otherwise, I would tell you it is soup. But it will be close to being soup tomorrow."
Senate Majority Leader Scott Fitzgerald, R-Juneau, and Assembly Speaker Robin Vos, R-Rochester, said Evers' Monday announcement "created mass amounts of confusion" and came as a "surprise" to the Legislature.
"The governor's sudden change of course and lack of specific guidance have increased the level of uncertainty and anxiety in our state," they said in a statement Monday afternoon. "It was a complete reversal from his repeated assurances. It should be noted that legislative leaders have asked on a daily basis whether or not this was the direction the governor was headed, and we were told it was not."
Other updates on COVID-19:
The National Guard and the State Emergency Operations Center have been working on a personal protective equipment buyback program, said Major General Paul Knapp, Wisconsin's Adjutant General. He said they'd accept donations or will buy back the equipment from businesses that have closed as a result of the outbreak and no longer have use for the equipment. They'll be able to get those out to first responders and medical workers that need it the most.
Evers credited private businesses for their help on Monday's press call, including Epic, which is providing project managers and data to help determine capacity in the state. He also singled out Exact Sciences for boosting lab testing capabilities and Promega for producing ingredients for the tests. He also said they're asking experts from the University of Wisconsin and the Wisconsin Hospital Association to be part of the state's emergency operations center.
Evers said they've created "strike teams" to focus on specimen collection and laboratory capacity; personal protective equipment and essential supplies; isolation facilities; surge capacity; healthcare worker child care; and contact tracing and surveillance. The task forces will ensure the healthcare workforce have the resources they need to serve across the state, he said.
A coalition of healthcare groups, including the Wisconsin Hospital Association, Wisconsin Primary Health Care Association, Rural Wisconsin Health Cooperative, Wisconsin Medical Society, LeadingAge Wisconsin, Wisconsin Health Care Association/Wisconsin Center for Assisted Living and the Wisconsin Nurses Association expressed support for the safer-at-home order. The Medical College of Wisconsin said Wednesday they back the order too.
Wisconsin Health News is removing the password on all stories related to the coronavirus. For the latest developments follow us on Twitter at @wihealthnews or check out our website. For complete healthcare coverage, sign up for a free trial to our daily email newsletter.