DHS: Thousands would be hospitalized without safer-at-home order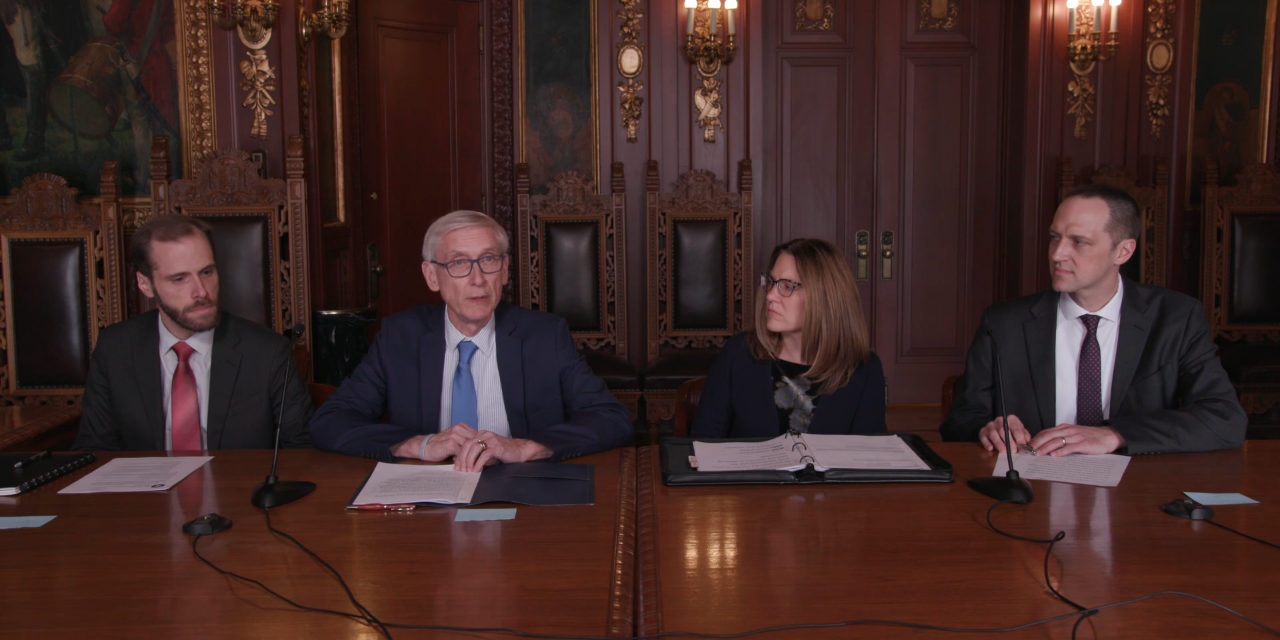 More than 20,000 Wisconsin residents could be hospitalized and up to 1,500 could die within two weeks without Gov. Tony Evers' safer-at-home order, Department of Health Services Secretary-designee Andrea Palm told reporters Tuesday.
Palm said their model is based on what happened in Italy and China.
She said their data shows an estimated 440 to 1,500 deaths and 22,000 positive tests of COVID-19 as of April 8 without action.
"This means thousands of Wisconsinites would need hospitalization, and we would exceed our current hospital bed capacity," Palm said.
There were 457 positive tests for COVID-19 as of Tuesday afternoon, according to DHS. There were 8,237 negative tests and five deaths.
Dr. Ryan Westergaard, chief medical officer of the Bureau of Communicable Diseases at DHS, told reporters that hospitalization rates for those with the disease in the state could be as high as 20 percent.
Medical College of Wisconsin CEO Dr. John Raymond said that based on modeling from the Wisconsin Hospital Association, the state's hospitals and intensive care units could exceed capacity within a few weeks.
"If we don't bend down or flatten the curve, we will have a crisis here in as little as three weeks," Raymond said at a Tuesday webinar hosted by the Metropolitan Milwaukee Association of Commerce.
WHA Chief Medical Officer Dr. Mark Kaufman told WisconsinEye that all member hospitals are planning for a "large, large surge."
"We hope it really doesn't come to that," he said. "Nobody really knows how big the surge wave is going to be and how quickly it is going to get here. But I think hospitals are preparing for a major influx and they should be."
Kaufman said hospitals across the state have around 11,000 hospital beds; 2,600 intensive care unit beds; and about 620 ventilators. Their average occupancy rate for beds is 58 percent over time, he said.
He called social distancing – staying away from people – "the only tool we have in our tool box right now" given the lack of a vaccine and no proven antiviral medicines.
Palm told reporters Monday that they're working with Epic to get real-time data as it relates to the supply of beds and who's hospitalized.
"The more real time we know, the better we will be prepared and able to respond," she said Monday.
Epic spokeswoman Ashley Gibson said project managers are helping to create plans to expand capacity if necessary and working to identify additional lab capacity to meet increased demand for testing.
They're also working on developing guidance for people unable to shelter at home safely and creating plans for additional facilities to increase available capacity.
And Epic is developing a plan to streamline and prioritize distribution of personal protective equipment and essential supplies as well as helping the state increase child care capacity to support healthcare workers.
"Health systems around the world are gathering the data they need to understand and manage the outbreak," she said in a statement. "Epic is helping health systems in Wisconsin share that data with state officials so they can track COVID-19 cases, manage hospital capacity and support efforts to flatten the curve of infection."
Wisconsin Health News is removing the password on all stories related to the coronavirus. For the latest developments follow us on Twitter at @wihealthnews or check out our website. For complete healthcare coverage, sign up for a free trial to our daily email newsletter.