Wisconsin ERs see decline in visits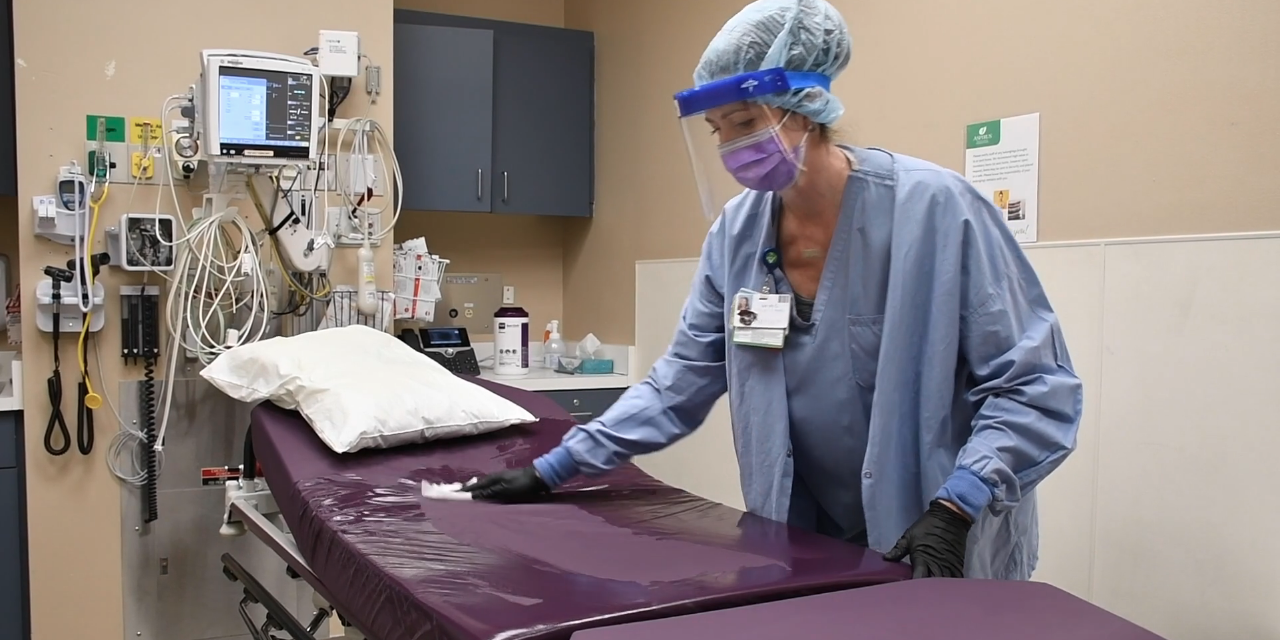 Photo credit: Aspirus
Wisconsin emergency rooms are seeing a decline in visits since the start of the COVID-19 pandemic, which providers attribute to a drop in injuries and respiratory illnesses due to social distancing, a boost in telehealth and fear of potential exposure to the new coronavirus.
"It's a little amazing – what used to be an emergency or an urgent care visit isn't there anymore," Froedtert Health CEO Cathy Jacobson said during a Wisconsin Health News webinar last week. "It's just not coming in."
Health systems throughout the state say they've seen emergency department visits drop by around half during the pandemic. And the patients that emergency rooms are seeing tend to be sicker and more likely to need hospital care.
Providers stress that they've taken measures to protect patients from possible COVID-19 infection.
Dr. Joshua Ross, executive vice chair of the BerbeeWalsh Department of Emergency Medicine at the University of Wisconsin School of Medicine and Public Health, said nationally emergency room visits are down around 50 percent. UW Health isn't different.
Ross said they've spent a lot of time in preparation to make sure that emergency rooms can separate those with COVID-19 symptoms from those who don't, as well as cleaning rooms and having appropriate personal protective equipment. He said the fact that visits are lower is good for preparation purposes.
"But it's also somewhat concerning because we know that there's probably people out there with small heart attacks and strokes that aren't seeking care," he said.
Ross noted that volumes may be down because there aren't influenza and other seasonal infections due to social distancing measures. They're also not seeing traffic accidents or sports-related injuries.
He said they're concerned about people not seeking care, adding that there are risks at home, including concerns around mental health and domestic violence.
"We still have to be vigilant in terms of making sure our healthcare infrastructure and support systems are in place," he said.
Ashley Lyman, Bellin Hospital's emergency department team leader, said visits are about half of their pre-pandemic normal, and hospital admission rates are up 5 to 10 percent. Part of that has to do with staying home, which is lowering the spread of contagious diseases.
Other factors could be expanded telehealth services that help triage patients to the appropriate level of care, patients being afraid to come to the department during the epidemic and suspension of elective care, which means fewer people coming in due to complications.
No school and limited daycare options could also be playing a role, as children with fevers aren't able to go back to school or daycare the next day, she noted.
Dr. Michael Dolan, executive vice president at Gundersen Health System, said their emergency room volumes are down about 45 percent.
He said they opened a respiratory clinic for people under investigation for COVID-19 where they're sending patients who might otherwise head to an emergency room.
Dolan noted that their trauma cases are similar to what they normally see, while other hospitals have seen a decline due to fewer road accidents.
"I think we're making up for that in non-motor vehicle accident trauma," he said. "We're a rural area. Farmers are really trying to get out in the fields and get started with their crops. We see some farming-related trauma, some ATV-related trauma, things people can get into trouble with at home."
Dolan said they also haven't seen a decline in heart attacks as well as stroke numbers. But they're seeing fewer patients with mild heart failure or mild infectious disease.
During the last six months, the emergency department at Children's Wisconsin has seen a 60 percent decrease in the number of kids they'd expect this time of year. Spokesman Andy Brodzeller said part of that is expected, due to closed playgrounds and families driving less.
He added that families may be choosing other options, like online urgent care or reaching out to a primary care doctor.
Dr. Brian Hoerneman, Marshfield Medical Center-Marshfield vice president of medical affairs, said part of their 40 percent drop in emergency department use could be a decline in illness due to social distancing.
But he said that some of it appears to be people not seeking care when they need it.
"In conditions such as heart attacks and strokes, the window for treatment is narrow," he said in an email. "Time is of the essence and outcomes worsen for every hour that treatment is delayed."
Hoerneman stressed that the emergency department is safe for patients, and that telehealth is available to help people assess their medical situation.
Aspirus Wausau Hospital Emergency Department Director Robin Rudie echoed concerns that the decrease they're seeing in visits and the increase in severity could be due to fear of exposure of the virus.
"We wouldn't typically expect the pandemic to reduce our overall volumes," she said in remarks to the media.
Health systems stressed that emergency rooms are safe. LeeAnn Betz, a spokeswoman for Advocate Aurora Health, said that they're taking all precautions to protect their health and safety, including separating COVID-19 patients from those with other symptoms or injuries.
"Staying home, ignoring the symptoms and suffering out of fear of COVID-19 is a risk people shouldn't take with their health" Dr. Gregory Brusko, Ascension Wisconsin Chief Clinical Officer, said in a statement.
Wisconsin Health News is removing the password on all stories related to the coronavirus. For the latest developments follow us on Twitter at @wihealthnews or check out our website. For complete healthcare coverage, sign up for a free trial to our daily email newsletter.