Children's Wisconsin identifies first cases of COVID-19-related disease in kids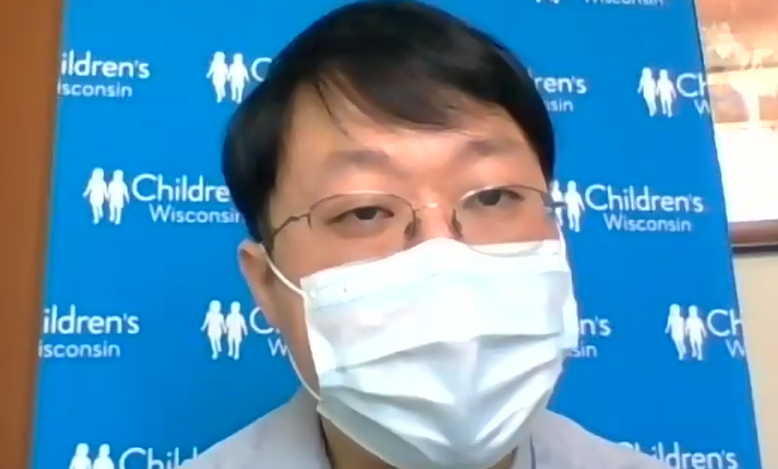 Image: Dr. Frank Zhu, medical director for infection control and prevention at Children's Wisconsin
Children's Wisconsin said Friday that they've identified the first suspected cases of a new inflammatory illness in children tied to COVID-19 infection or exposure.
Multi-system inflammatory syndrome in children involves swelling in different organs, including the heart, lungs, kidneys, brain, skin, eyes or gastrointestinal tract.
Symptoms include fever, abdominal pain, vomiting, diarrhea, rash, red eyes, red tongue and swelling of the hands and feet. The symptoms are similar to Kawasaki disease, a rare illness affecting young children.
Most recover with a brief hospital stay, and some don't need hospitalization.
The disease was identified in late April and early May, and Children's created a team to identify and treat kids with the syndrome.
Dr. Michael Gutzeit, Children's chief medical officer, said there are seven cases going back to April under review. Five patients were discharged after a brief hospital stay. Two were hospitalized as of Friday but in good condition.
Two tested positive for COVID-19 antibodies, and two tested negative. Two had tests pending, and one wasn't tested, he said.
"As multi-system inflammatory syndrome in children is still very new, and there is so much to learn, we're taking a conservative approach with the state and reporting all possible cases in order to gather as much information as possible," he told reporters. "This will ultimately help us – I and other healthcare experts – to determine the risk factors and clinical course of this syndrome and the connection it has to COVID-19."
Dr. Frank Zhu, medical director for infection control and prevention at Children's, said they're reviewing research and collaborating to develop a uniform approach to diagnosing and treating kids with the illness.
He noted the group includes doctors from critical care, infectious disease, hospital medicine, immunology, emergency medicine and others since the illness affects many parts of the body.
Zhu said the illness is still "extremely rare" in children. While serious, most recover with medical care, he added.
It can also be difficult to diagnose, with the criteria being broad given the newness of the disease, he said.
He said that they think the syndrome is a post-infectious complication of COVID-19, rather than infectious, given its appearance after the virus and that patients usually test positive for COVID-19 antibodies rather than for the illness itself.
Wisconsin Health News is removing the password on all stories related to the coronavirus. For the latest developments follow us on Twitter at @wihealthnews or check out our website. For complete healthcare coverage, sign up for a free trial to our daily email newsletter.