GOP legislative leaders respond to safer-at-home order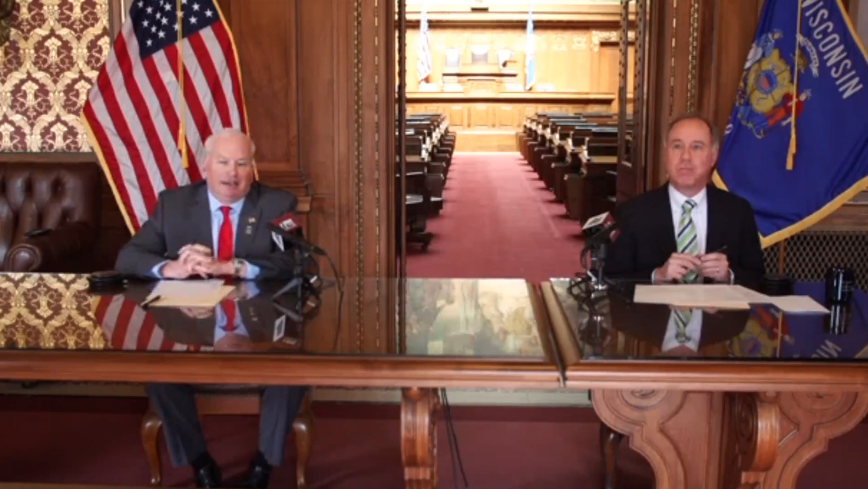 Republican legislative leaders said Wednesday they're giving Gov. Tony Evers the benefit of the doubt on his safer-at-home order, although they weren't pleased with its rollout.
As of Wednesday afternoon, there were 585 positive COVID-19 tests in the state, and 10,089 negative tests, according to the Department of Health Services. There were six deaths, including the first death in Dane County.
Not included in the count are the fourth and firth reported deaths in Milwaukee County. A 60-year-old man died at home, the Milwaukee County Medical Examiner's Office said Wednesday.
The office said Thursday a 57-year-old woman from West Allis died at a hospital.
Evers' safer-at-home order took effect Wednesday morning. Senate Majority Leader Scott Fitzgerald, R-Juneau, said he was "disappointed in kind of the back-and-forth communication."
"It is what it is at this point," he said reporters. "It wasn't the smoothest thing that certainly has happened so far. But I understand. We're in a difficult period of time here and things like that are going to happen."
Fitzgerald said they'll see the full impact of the order in the next couple of weeks, whether the public will follow it and how it'll affect overall COVID-19 numbers in the state.
He said they've talked with Medical College of Wisconsin and Children's Wisconsin providers and administrators who are concerned about how quickly emergency rooms can fill up.
Vos said he doesn't feel it's helpful to "sit around and criticize past decisions that have already been made."
"The governor has more information than he has shared with us," Vos said. "So I have to accept the fact that he's looking at all the facts and that he is trying to make the best decision that he can. I have serious doubts about the way that the order was put into place where it seems like some people got exemptions but other people did not in a very similar industry."
Vos said it was a good call for the governor to have an end date of April 24 for the order. He said he hopes it's the farthest date out.
"It's good that he gave a date because every business person that I know wants to understand when are they going to be able to generate revenue again? 'When are they going to be allowed to have employees come back?' he said.
He added that he believes there's going to be "one heck of a sale for an awful lot of businesses" that will come after April 24, which he said would be a "big shot in the arm for the economy."
Evers' public health emergency can last up to 60 days. Vos said that once Evers' declaration is up, they'll need to see a "very clear cut reason" for an extension.
"Let's get past the crisis," Vos said. "We want to see that good decisions get made, hopefully more communication to the public and more explanation as to why decisions are being made."
Using a resolution to revoke the public health emergency is not something that legislators have run by the Legislative Council "or anyone else at this point," according to Fitzgerald.
"I'm not really prepared to say that that would be something that we would even consider," Fitzgerald said. He said they're "trying to work with the governor so we're not surprised by some of the decisions coming out of the East Wing."
Meanwhile, Sen. David Craig, R-Big Bend, circulated legislation Wednesday that would require the Legislature to approve any statewide shelter-in-place order for reasons of pandemic or disease. It'd also require legislative passive review of emergency declarations after 30 days.
"To impair fundamental rights – as gathering bans, etc. do – the government must have a compelling state interest to do so AND must do so in a narrowly tailored and least restrictive means possible under the constitution," Craig wrote in a memo to lawmakers. "Without additional clarity by the executive branch, it is clear that this authority has been exceeded."
Vos and Fitzgerald said they need to understand how Congress is addressing COVID-19 before the state's Legislature takes action. That includes a $2 trillion package moving through Congress, with money aimed at states, hospitals, small businesses and workers.
"We cannot do anything until we understand what's happening from Washington D.C.," Vos said.
Vos said they're looking at things they can do to cut administrative barriers facing healthcare professionals.
"I've been contacted by people who's licenses are going to have to come up," he said. "So if you're a nurse or a doctor, there's a lot of annual renewals."
Fitzgerald said there will likely be "less high profile" bills that will come up as well as requests from state agencies that legislative caucuses will weigh.
Both Fitzgerald and Vos said they support holding the spring election and primary on April 7, as Evers has backed. They do not support going to a mail-in election.
"We are way too far in," Fitzgerald said, citing that early voting has begun.
President Donald Trump said Tuesday that he's "hopeful to have Americans working again by that Easter, that beautiful Easter day."
But Fitzgerald said that has "got to be driven not necessarily by the calendar, more so about what we see on a daily basis."
Vos called on the healthcare system and hospitals to do a better job explaining what's happening in real time.
He said it would be helpful to know, when the state reports its testing data daily, how many have also been hospitalized and how many of the total beds are taken up. That way people can see how the hospitals are being impacted, he said.
"I think we've been really lacking in doing that, so I think there's a lot more information the public wants to see," he said.
Vos said they're also looking at a temporary suspension of the one-week waiting period for unemployment insurance benefits, rather than the repeal Evers requested. Vos said that the waiting period ensures the state's fund remains solvent.
They've asked the Legislative Fiscal Bureau to analyze the impact of a suspension so if lawmakers pursue it, they can do it in a way "that allows folks to get their benefits but not have a massive tax increase," he said.
Wisconsin Health News is removing the password on all stories related to the coronavirus. For the latest developments follow us on Twitter at @wihealthnews or check out our website. For complete healthcare coverage, sign up for a free trial to our daily email newsletter.