MCW CEO sees 'preliminary signs' of unfavorable COVID-19 trends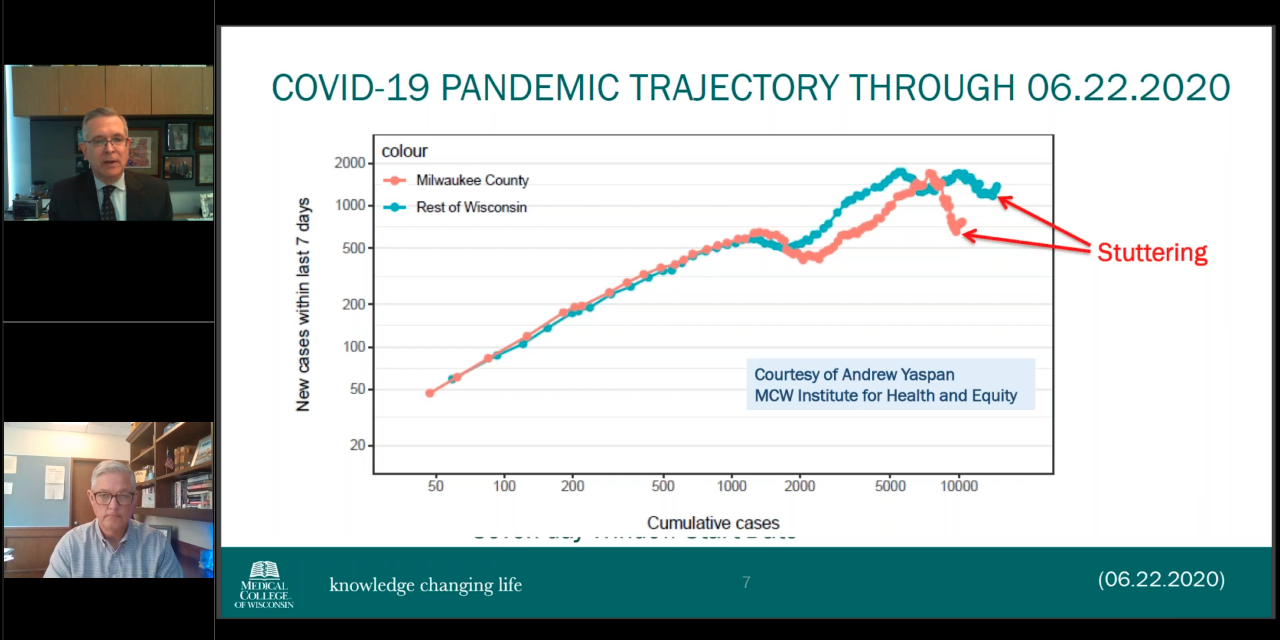 Medical College of Wisconsin CEO Dr. John Raymond said Tuesday that there are "preliminary signs" that the state might be steering towards unfavorable COVID-19 trends.
Raymond said the reproductive number, which measures the contagiousness of the virus, on Monday was at 1.09 in Wisconsin and 1.12 in Milwaukee.
Monday marked four consecutive days where the reproductive number was over one.
"This would imply that rather than decelerating, the pandemic is actually growing," Raymond said at a Metropolitan Milwaukee Association of Commerce webinar.
As of Tuesday, there were 25,331 confirmed cases of COVID-19 in Wisconsin, an increase of 263 from Monday. The Department of Health Services reported five more deaths, bringing the state's total to 750.
Between June 2 and June 18, the reproductive number was less than one in the state and Milwaukee. Last week, Raymond said data suggested a deceleration of the pandemic.
Raymond said Wisconsin is in the middle of the pack when it comes to states fighting the pandemic and was doing a little better during that 16-day period of time.
"I hope that the trend will start going down again," he said. "But to be quite honest with you, I wasn't sure why we were really doing better than other states. There were lots of people that were out mixing and mingling. We had a relaxation of social distancing, holidays."
Still, the number of hospitalizations are trending downward over the last few weeks. And while hospitalizations may rise with an increase in cases, the state hasn't seen that yet, he said.
Raymond said Wisconsin is doing "pretty well" when it comes to hospitalizations, which are at around 13 percent of the total confirmed cases.
As of Tuesday, there were 240 total COVID-19 patients in Wisconsin hospitals. Ninety-three were in intensive care units, according to the Wisconsin Hospital Association.
That was up from 82 on June 18, the date with the lowest number of patients in the intensive care unit since the association began releasing data.
Raymond said the admission rate continues to decline as more is learned about the disease. There's also been more effective triage. Broadly available testing is helping to find cases earlier, he said.
There's adequate ventilator and intensive care unit capacity, he said.
Twenty-three percent of the state's 1,259 ventilators were in use as of Tuesday, according to WHA data. And there were 289 intensive care unit beds immediately available.
Critical supply needs persist for goggles, gowns and N95 masks, Raymond said.
Doubling times for positive tests continue to grow to 30.6 days in Wisconsin and 34 days in Milwaukee.
Daily growth rate over the last seven days as of Monday continues to be low, Raymond said. It was at 1.3 percent in Wisconsin and 1.1 percent in Milwaukee.
And Raymond noted that the positive rate for cumulative tests has been generally going down.
There's a continuing disproportionate percentage of Black people dying from the disease, although new deaths are trending toward white individuals.
For newly diagnosed COVID-19, the cases are trending toward younger individuals, mostly in the Latinx demographic, he said.
He noted infections in southern and southwestern states are surging and that the demographics are shifting to younger people and the Latinx population.
That could be due to younger people being more socially active and both groups being essential workers, he said.
Raymond also said they haven't seen any impact from protests against police brutality. And there's evidence that transmission to children might be 50 percent less likely to occur compared to the elderly.
"We know that South Korea is fighting a second wave and that China is fighting a new outbreak, so continued vigilance is really responsible," he said. Mounting evidence suggests that social distancing and face coverings work to fight the pandemic, he noted.
Raymond also noted that a small study from China found that COVID-19 antibodies can disappear within a few months. That could be bad news for the durability of immunizations, he said.
"We've flattened the curve, but we haven't eliminated the virus," Raymond said. "We still don't have effective, preventive treatments or a vaccine. So we're going to continue to need to be careful."
Wisconsin Health News is removing the password on all stories related to the coronavirus. For the latest developments follow us on Twitter at @wihealthnews or check out our website. For complete healthcare coverage, sign up for a free trial to our daily email newsletter.